No mere recycling of the original, this version has an individual flavour that vividly evokes the atmosphere of mid-60s Australia.
Billy Thorpe (1946-2007): British-born singer, guitarist and songwriter whose family emigrated to Brisbane in the 1950s. Based in Sydney from 1963, 'Thorpy', with The Aztecs, had numerous pop hits in a variety of styles, but at the end of the 60s, then in Melbourne, he fronted a loud, rocky, blues-based formation of the Aztecs that contrasted with his earlier pop idol image. Later, his solo and business career took him to Los Angeles, and he wrote two popular autobiographical books, Most People I Know (Think That I'm Crazy) and Sex And Thugs And Rock'n'Roll [AbeBooks link].
Further reading: Paul Culnane's account of Billy Thorpe's career at Milesago.
The Coasters - Poison Ivy (1959)
When innovative young LA songwriter-producers Jerry Leiber and Mike Stoller wound up their independent R&B label Spark to join with New York's Atlantic Records in late 1955, they retained two members of The Robins, a vocal group they had recorded since 1953 (Riot In Cell Block #9, Sleepy Joe's Café).
Carl Gardner and Bobby Nunn were joined by new recruits for January 1956 sessions in a group named – with a nod to the West Coast-East Coast connection – The Coasters.
Carl Gardner stuck with The Coasters as lead tenor, and by the end of 1957 the rest of the line-up had stabilised to trademark lead baritone Billy Guy, bass man Will "Dub" Jones and second tenor Cornel Gunter. The saxophone of King Curtis also became an indispensable part of the Coasters sound from early 1958.
Recording first in LA and later in New York, The Coasters took a series of comic, teen-oriented Leiber-Stoller compositions onto both the R&B and mainstream charts, including Searchin' (1957, #3 USA), Yakety Yak (1958, #1), Charlie Brown (1959, #2) and Poison Ivy (1959, #7).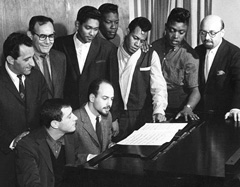 ← At the piano: Jerry Leiber & Mike Stoller. Standing, left to right: Atlantic's Lester Sill & Jerry Wexler; The Coasters: Carl Gardner, Dub Jones, Billy Guy, Cornel Gunter; Atlantic's Ahmet Ertegun. (1959)
---
---
The Rolling Stones - Poison Ivy (1964)
On EP The Rolling Stones.
Aztecs guitarist Tony Barber (not the TV star), in his 2003 book Long Way 'Til You Drop, recalls suggesting that the band re-arrange and record Poison Ivy after hearing it on the Rolling Stones EP, sent to him by his brother in England.
The Stones recorded Poison Ivy twice during 1963. It is the second attempt that appears on this EP, released in January 1964. The first recording, originally shelved, appeared on the 1972 compilation album, More Hot Rocks (Big Hits And Fazed Cookies). Both versions are on the CD of More Hot Rocks.
Thanks to Terry Stacey.
---
The Dave Clark Five - Poison Ivy (1963)
On Columbia EP The Dave Clark Five.

Version alert from Terry Stacey.
Further reading: Dave Clark Five bio & discography at The British Beat Boom.