Single on Leedon, instrumental by Sydney pianist.
From ScreenSound Australia's discography The First Wave:
Pianist who played with John Konrad's Kaydets (1960) and in Johnny O'Keefe's backing band. Despite many recordings for Leedon in his own name from 1961 to 1964, they are mostly in what has been described as "honky tonk party piano style" rather than anything resembling rock music. One possible exception is Warren Carr Plays Johnny O'Keefe.
Further reading: Webpage of Michael Carr, musician son of Warren, whose song The Greatest Man is a tribute to his father [archived page].
---
Cornbread & Jerry - Li'l Ole Me (1961)
Instrumental single on Liberty by Jerry Smith, the composer of Li'l Ole Me, with Bill Justis (the "Cornbread" of the artists' name). Also charted somewhat in Canada.
Nashville session keyboardist, songwriter, publisher and producer Jerry Smith also released singles of Li'l Ole Me under his own name in 1964 on Sound Stage 7 and in 1966/67 on Chart.
Recorded at Fernwood Studio in Memphis, Li'l Ole Me was a breakthrough in Jerry Smith's career, his first release with arranger and producer Bill Justis. Their collaboration, soon to be based in Nashville, would produce honky-tonk styled hits by The Dixiebelles with Cornbread & Jerry: (Down At) Papa Joe's (1963, #9 USA) and Southtown USA (1964, #15 USA).
Jerry Smith continued to record under his own name or as Jerry Smith And His Pianos (Drivin' Home, Truck Stop, Steppin' Out). He also released thirty albums as The Magic Organ on Hollywood label Ranwood.
In Australia, Bill Justis had a #1 national hit in 1963 with Tamoure, a record that did not chart nationally in the US (more details at my blog). On the other hand, his 1957 hit Raunchy (#2 USA, written with guitarist Sid Manker: Justis was on sax), did not chart in Australia, though cover versions by Ernie Freeman and Billy Vaughn appeared on some Australian charts.
Thanks to Jerry Smith, and to Tony Watson for IDing the original.
---
---
---
Brass Monkeys - Little Ole Me (1961)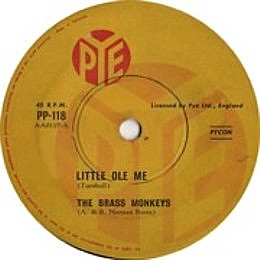 An obscurity, on Pye #118 (Australia).
This is Jerry Smith's composition Li'l Ole Me, although the label wrongly credits Turnbull, composer of the B-side, Tumbleweed.
The label credits Norman Burns, a regular arranger in Australia for Pye, although it also shows "Licensed by Pye Ltd., England".
Further research: Was this a brass band, by any chance?
Reference: Sheet music notes at Kay's Music Australia.
Thanks to Earl Mitchell and Tony Watson for further research.
Label shot by Earl Mitchell