Verne Condon - (I) Can't Get Through To You (1967)
Single on His Master's Voice. The B-side Talk About Love was first released by Sandie Shaw on Pye EP Talk About Love. It was written by Chris Andrews who wrote five of Sandie Shaw's eight biggest hits.
---
Born in Burwood, Sydney in 1943, Peter Consandine trained as an actor with Hayes Gordon at the Ensemble Theatre and with Robert Levis at the Independent.
Using the stage name Verne Condon, he followed a career as a versatile singer, entertainer and compere .
Condon is a user-friendly version of Consandine. Actors' Equity already had three Peter Condons on the books so Peter became Verne, a variation on Vene, his mother's name.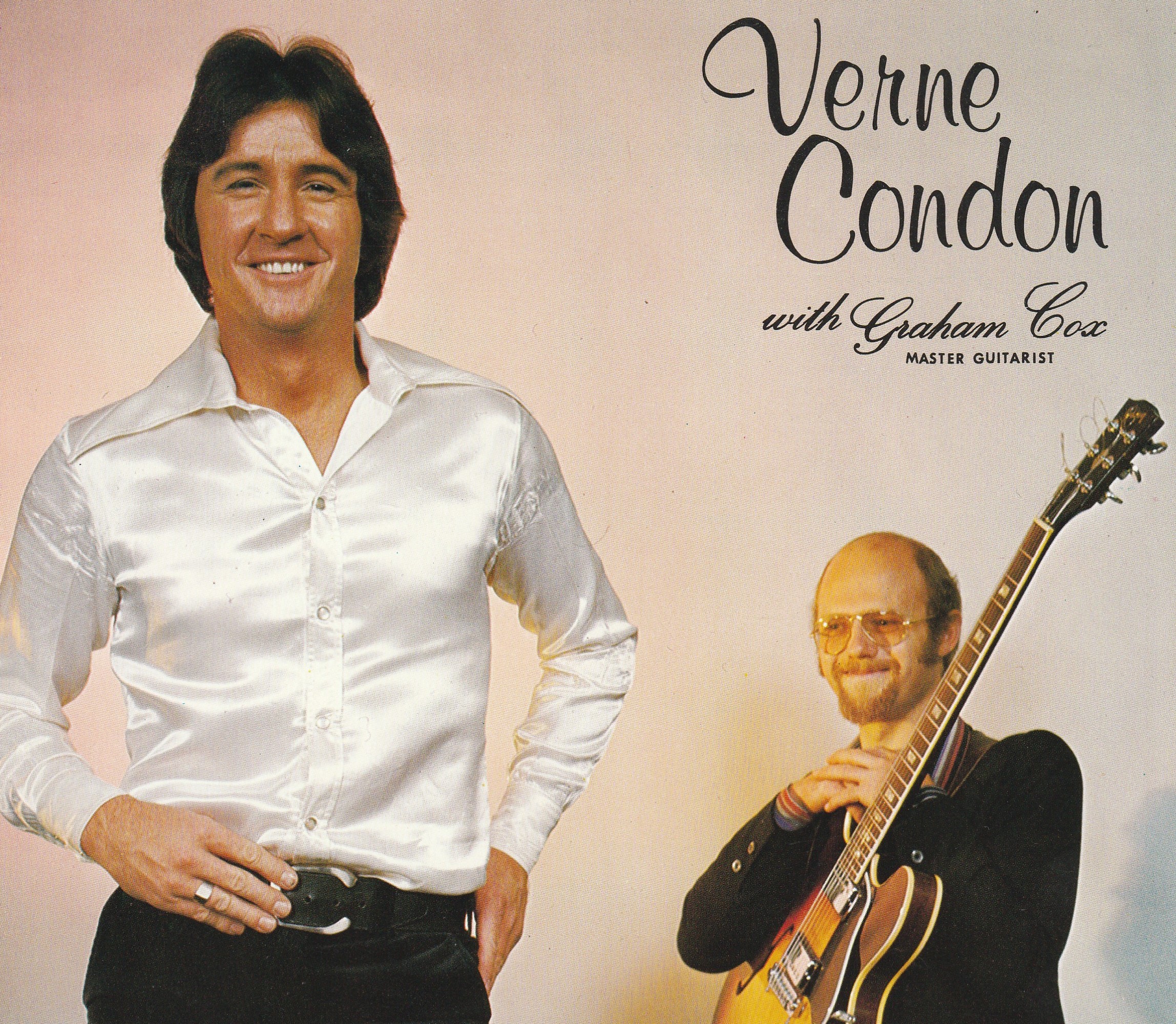 From the mid-60s to the late-70s Verne Condon worked in pop, country-soul and vocal instrumental cabaret. Along the way he was backed by some of Australia's biggest names in music including The Twilights, The Strangers, The Easybeats, The Chessmen and The Playboys.
Peter Consandine later furthered his studies, went into politics (he was a Strathfield alderman for a while) and became a prominent and untiring advocate for an Australian republic. He co-founded the Republican Party of Australia in 1982.
Of all the diverse music that Peter has encountered over the years, The Shadows remain unsurpassed for him. As he says, "Shadows music keeps me young."
Thanks to Peter Consandine (Verne Condon).
Further reading.
Enjoy the historical vibe of these old news items, but they can get things wrong (one of them has Peter born in the wrong state).
1. "Hitchhikes on the way to the top", Sun-Herald (Sydney), 11 July 1965, p. 76 (clipping, free view)
2. "Singer seeks voice in politics", Sun-Herald (Sydney), 10 July 1977, p. 19 (clipping, free view)
3. "Battle Hymn of the Republican", Sydney Morning Herald, 25 July 1992: (clippings p. 156, p.158, free views; paid sub for full article).
4. Soundtrack listing: Verne Condon TV appearance on Ernie Sigley Show (1974)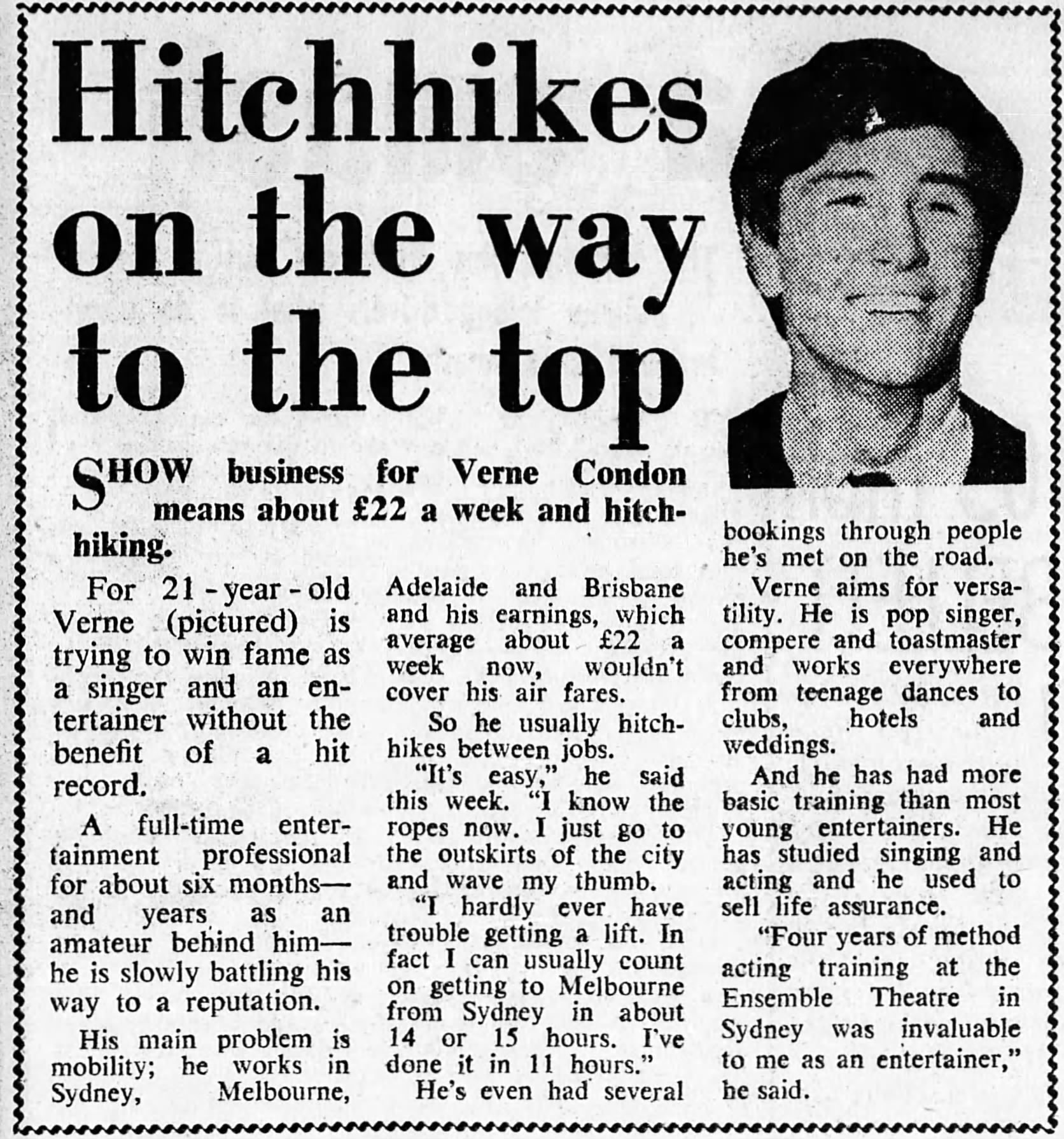 ---
Sumpin' Else - I Can't Get Through To You (1966)
B-side on Liberty April 1966, the first of two by Los Angeles band.
Also released in France on EP I Can't Get Through To You (1966: image). Discogs.com has a label shot of the French demo disc.
In an apparently short career, Sumpin' Else released two US singles in April and July 1966, followed by the French EP which carried two reissued tracks plus two others.
All four sides on the singles were produced by Liberty house producer Dallas Smith who also arranged the second single and wrote the A-side. His productions include Canned Heat's first popular single On The Road Again (1968, #16 USA, #8 UK, #8 Australia) and Five Man Electric Band's Signs (1971, #3 USA, #5 Australia)
---
The band: Information about Sumpin' Else is unusually elusive. There are no reviews or plugs in Cash Box, Billboard or Record World, and I have not found any musician who has the band in their CV. In large US newspaper archives I found no mentions in TV listings, entertainment ads or articles.
In fact the band seems to have left no traces, which makes me wonder whether it was a studio outfit whose members stayed anonymous. (Does that sleeve photo show a real band, or are they models from a clothing catalogue?) Search results tend to throw up a 1965-69 TV pop show called Sump'n Else on WFAA in Dallas, but I'm guessing the band was not connected with that.
---
The composer: John Merrill was a rhythm guitarist and songwriter with LA psychedelic band The Peanut Butter Conspiracy (John R. Merrill, b. 1944). He had also been in its precursor, folk-rock band The Ashes who would be re-formed by Merrill in 1968. Of the six tracks released by Sumpin' Else, four are John Merrill compositions, as are about half the songs on Peanut Butter Conspiracy's first two albums.
---
The Honeycombs - Can't Get Through To You (1965)

Similar title but not the same song as '(I) Can't Get Through To You' by Verne Condon.
B-side on Pye, written and produced by Joe Meek. British pop group The Honeycombs were known as much for their drummer Honey Lantree as for their hit Have I The Right (1964, #1 UK, #5 USA), also produced by Joe Meek.
---
A couple of other red herrings:
• Linda Scott – Can't Get Through To You (Weiss-Anisfield)
USA 1965 B-side on Kapp.
• The Outcasts – I Can't Get Through To You (Puckett-Brown-Kendal)
USA 1965 Single on Karate by previous band of The Union Gap's Gary Puckett.