The Twilights - Needle In A Haystack (1966)
Beatles-influenced Adelaide band The Twilights had several hits around the country 1966-68, from a repertoire that included band originals (If She Finds Out, Young Girl, Cathy Come Home) as well as cover versions (Larry Williams's Bad Boy, The Velvelettes' Needle In A Haystack).
Popular in Adelaide from 1964, The Twilights expanded their national audience when they relocated to Melbourne in 1965. As part of their prize in winning the national Hoadley's Battle of the Sounds in July 1966, The Twilights were produced by Beatles engineer Norman "Hurricane" Smith at Abbey Road: see What's Wrong With The Way I Live.
Twilights vocalist Glenn Shorrock and guitarist Terry Britten have followed long and diverse careers: Shorrock was famously with Axiom and Little River Band, and Britten's compositions have been widely recorded, including We Don't Need Another Hero and What's Love Got To Do With It? by Tina Turner (both co-wr. Graham Lyle from Gallagher & Lyle). Milesago's Twilights page has post-Twilights news of drummer Laurie Pryor and rhythm guitarist Peter Brideoake but loses the trail of vocalist Paddy McCartney and original drummer John Bywaters.
References, further reading: 1. Milesago's detailed Twilights history adds a 1982 memoir by Twilights singer Glenn Shorrock and a personal appreciation by Paul Culnane. 2. The Twilights at Howlspace [archived]. 3. Ian McFarlane, The Encyclopedia of Australian Rock & Pop (1999), pp. 652-654.
---
The Velvelettes - Needle In A Haystack (1964)
Single on Motown's V.I.P. label.
Motown vocal group The Velvelettes were never chart-toppers, and their output wasn't huge, but their popularity has endured with soul fans through CD reissues. Formed in 1961 with cousins Bertha and Norma Barbee, sisters Milly and Cal Gill, and Cal's friend Betty Kelly (later a Vandella), The Velvelettes were signed to Motown in 1962.
The Velvelettes' Needle In A Haystack and He Was Really Sayin' Somethin', probably their best-known records, had high pedigree Motown writing and production credits: both were produced by Norman Whitfield and written by Whitfield with William "Mickey" Stevenson and (in the case of He Was Really Sayin' Somethin') Eddie Holland.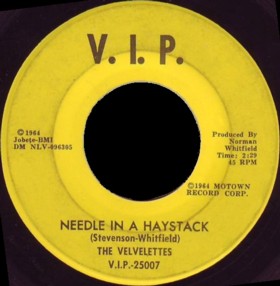 After a number of line-up changes, during which Cal Gill continued as lead singer, The Velvelettes broke up at the end of the 60s, but their reissued single These Things Will Keep Me Loving You (1966) charted at #34 in Britain in 1971.
References, further reading: 1. Velvelettes at All Music Guide and Wikipedia. 3. Velvelettes page from Girl Group Chronicles [archived page]. 4. Velvelettes discography at Soulful Kinda Music.
---