The Reels - According To My Heart (1980)
On the EP 5 Great Gift Ideas From The Reels.
The Reels were an eclectic new-wavish pop band from Sydney who topped the charts in 1979-80 with Love Will Find A Way. Their repertoire included some interesting arrangements of unexpected songs, but they're often remembered now for something altogether different, the haunting Quasimodo's Dream, written by Reels front man David Mason. See also The Real Thing.
David Mason later recorded a solo acoustic version [Amazon].
---
---
---
Del Reeves - According To My Heart (1966)
On the album Del Reeves Sings Jim Reeves on United Artists.
Country singer-songwriter and executive born Franklin Delano Reeves in 1933. Apparently unrelated to Jim Reeves.
---
---
Jim Reeves - According To My Heart (1960)
On the album According To My Heart, produced by Chet Atkins, on RCA Camden. This is the 1956 recording, as released on the single.
---
Jim Reeves - According To My Heart (1956)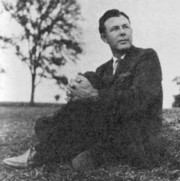 Popular Nashville-based country singer (1923-1964), known as Gentleman Jim Reeves. He frequently and successfully crossed over to mainstream pop, where his biggest hit was He'll Have To Go (1960, #2 USA). (AMGC)
Petr Vitous's country discography site lists his singles and albums.
Single on RCA label, also released on 78 rpm on RCA Victor, produced by Chet Atkins. This is sometimes listed as a duet with Carol Johnson, but that was only on the other side, Mother Of A Honky Tonk Girl.
Jim Reeves previously recorded this in 1955, produced by Stephen H. Sholes but unreleased.
Thanks to Joop Jansen for clarification on some key points.
---
Tish Hinojosa - According To My Heart (1987)
Album on audiocasette, Tao To Tennessee, released again on CD in 1992.
---