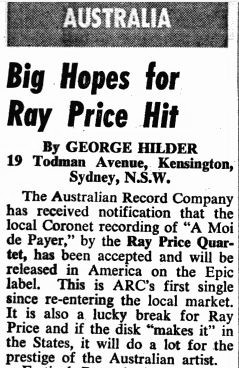 Single on CBS Coronet. Also in the US on Epic #9539.
Instrumental by Sydney trad jazz group led by guitarist and banjo player Ray Price.
Personnel: Johnny McCarthy, clarinet; John Costelloe, trombone; Dick Hughes, piano; Ray Price, banjo; Wally Wickham, string bass. (Jack Mitchell, Australian Jazz On Record, 1988)
---
Kenny Ball & His Jazzmen - The Pay-off (1962)
British trad jazz band, famous for Midnight In Moscow (1961).
*Thomas J. Guest's Melbourne chart book, Thirty Years Of Hits, has this reaching #24 in Melbourne, co-charting with the Ray Price version. (Thirty Years Of Hits is available from: M. Maloney, PO Box 161, Craigieburn, Vic 3064, Australia
---
Sidney Bechet Avec Andre Reweliotty Et Son Orchestre - A Moi De Payer (1955)

Sidney Bechet: New Orleans-born clarinettist and composer (1897-1959), one of the greats of jazz, who often worked in Europe and lived in France in later life.
From the soundtrack of the film Série Noire (1955), in which Sidney Bechet appears as himself.
The film includes a vocal version of this song with A Toi instead of A Moi.
Sidney Bechet's best-known composition outside jazz circles is probably Petite Fleur, a hit on the pop charts for Chris Barber in 1959.
See The Recordings of Sidney Bechet at the website of The Sidney Bechet Society.
---
California Ramblers - The Pay-off (1927)
SIMILAR TITLE BUT NOT THE SAME SONG AS "A MOI DE PAYER (THE PAY-OFF)" BY THE RAY PRICE QUARTET.

Other red herrings include:
• Cline's Collegians – The Pay-off (Howard "Howdy" Quicksell)
USA late 20s
• Jerry Goldsmith – The Payoff (Goldsmith)
USA 1970 From the film Patton.