Instrumental by Col Joye's band The Joy Boys. The title on the label is Smoky Mokes, without the 'e' [label shot].
The Joy Boys released several of their own singles, many of which charted, especially in Sydney where nine made the Top 40 from 1960 to 1963. They had several Top 40 entries in most of the major capital cities.
Smoky Mokes was their biggest hit, followed by Southern 'Rora, an original instrumental in honour of the Southern Aurora, a new Sydney-Melbourne express train (1962, #5 Sydney #5 Melbourne #5 Brisbane #2 Adelaide).
Thanks to Dave Overett and Chris Vening for suggestion and pointers.
---
[sheet Music] - Smoky Mokes (1899)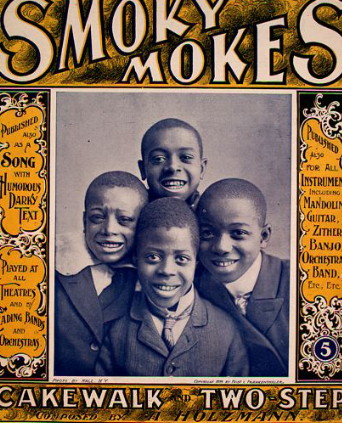 Smoky Mokes (also, Smokey Mokes) was written by the New York Tin Pan Alley composer Abe Holzmann (1874-1939) whose work saw some popularity during the ragtime era. A version with lyrics by W. Anderson Lind was also published.
Sheet music for Smoky Mokes labels it as a cakewalk two step. The cakewalk, a dance and musical style that went back to the slavery era and the minstrel shows, was a precursor of ragtime that persisted alongside it for a time.
Published by Leo Feist, Smoky Mokes was one of the big hits of the 1890s, "regarded as the music happening of the day".
References, further reading:
1. Abe Holzmann page at RagPiano.com.
2. The Wikipedia entry on Abe Holzmann offers a brief overview.
3. For a detailed account of cakewalk (and its relationship to ragtime) see the history and discussion at RagPiano.com.
4. The Wikipedia entry on cakewalk is another detailed account that focuses less on its links with ragtime.
5. Retrospective of the career of publisher Leo Feist, Billboard advertising feature for Robbins-Feist-Miller, music publishers, 2 September 1967 (via Google Books).
6. Fifty Years of Hits, Billboard, 22 October 1949 (via Google Books).
Image: Cropped from RagPiano.com
---
Dan Quinn - Smoky Mokes (1899)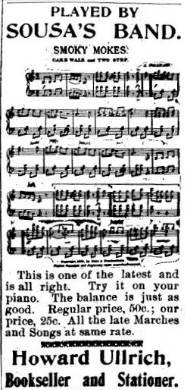 May 1899 recording released on a Berliner disc, by New York tenor Dan W. Quinn (1859-1938). Quinn first recorded in 1892 and became one of the earliest successful recording artists. He was hard-working, and claimed to have recorded around 2,500 tracks for numerous companies during his career.
This is the earliest recording listed at 78discography.com (Online Discographies Project). Recorded in the same year as the publication of the sheet music, it could well be the original recorded version.
Some other versions of Smoky/Smokey Mokes from around this time:
US Marine Band (rec. Sept 1899);
Metropolitan Orchestra (rec. Jan 1900);
Vess Ossman (rec. May 1900);
Victor Herbert's Band (c.1901);
Prince's Orchestra (1902);
The Columbia Orchestra (1902).
I have found no evidence of a recording by Sousa's Band, led by John Philip Sousa, although it was apparently important in popularising Smoky Mokes. (Sousa was a leader of the US Marine Band, listed above, but not at the time it recorded Smoky Mokes.)
Reference, further reading: 1. Search results for Smokey Mokes and for Smoky Mokes at Online Discographies Project (78discography.com). 2. Detailed account of Quinn's recording career at Tim's Phonographs and Old Records. 3. Dan W. Quinn at Wikipedia.
Image: Ad for a current hit, The Mail, Hagerstown ML, 14 July 1899 (via NewspaperArchive.com)
---
Graeme Bell & His Dixieland Jazz Band - Smoky Mokes (1947)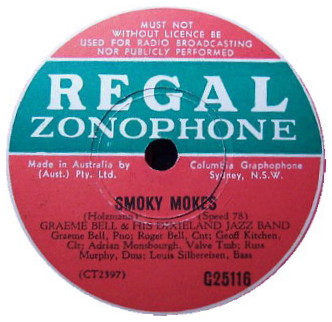 Recorded in Sydney, April 1947.
Smoky Mokes (also, Smokey Mokes) was familiar to Australian trad or Dixieland jazz fans. Jack Mitchell's Australian Jazz on Record 1925-1980 lists sixteen recordings from the late 40s on.
It was a standard in the repertoire of Graeme Bell (b.1914), the major Australian jazz pianist, composer and bandleader. This is the earliest of seven Graeme Bell recordings of Smoky Mokes in Mitchell's discography. It was originally released on Columbia's Regal Zonophone label, G-25116. Mitchell also lists issues on Columbia and EMI.
---
Lu Watters' Yerba Buena Jazz Band - Smokey Mokes (1941)
78 rpm record on the Jazz Man label.
Throughout the 1940s, aged in his thirties, the trumpeter and bandleader Lu Watters (1911-1989) persisted with traditional New Orleans jazz, even when many jazz musicians were turning to the innovations of bebop. In this, he would have had much in common with his Australian contemporaries, among them Graeme Bell.
References, further reading: 1. Video posted by cdbpdx at YouTube has audio right off the record as well as a readable shot of the label and some background on Hollywood's Jazz Man label. 2. Lu Watters biography by Chris Kelsey at All Music Guide. 3. Brief Wikipedia entry on Lu Watters.
---
Johnny Maddox & The Rhythmasters - Smokey Mokes (1952)
Single on Dot by ragtime piano revivalist and historian Johnny Maddox. He was later nicknamed "Crazy Otto" after his 1955 hit The Crazy Otto (#2 USA), a medley in tribute to Fritz Schulz-Reichel, a German ragtime pianist who performed as Crazy Otto.
Maddox was from Gallatin TN, site of Randy's Record Store, and he knew Randy Wood, owner of the store and founder of Dot Records. Maddox's Crazy Bone Rag (1950) was the sixth numbered single in Dot's catologue.
Further reading: 1. Johnny Maddox page at All About Jazz. 2. Johnny Maddox, Wikipedia entry.
---
Freddy Randall And His Band - Smokey Mokes (1952)
78 rpm record on Parlophone, B-side of The Sheik Of Araby, released December 1952.
Trumpeter Freddy Randall (1921-1999) was a major British trad jazz bandleader from the late 40s and throughout the 50s.
Further reading: Obituary: Freddy Randall by Steve Voce, The Independent, 26 May 1999. Voce: At one point in the Fifties the three most popular revivalist jazz bands were led by trumpeters. Humphrey Lyttelton was the most eminent, Freddy Randall was the most instrumentally gifted, and everybody liked Mick Mulligan even though he wasn't much good as a trumpet player.
---
The Famous Castle Jazz Band - Smokey Mokes (1958)
Trad jazz band from Portland, Oregon. Smokey Mokes was on the album The Famous Castle Jazz Band In Hi-Fi (Good Time Jazz label), also released as The Famous Castle Jazz Band In Stereo (Stereo label). Recorded August 1957, released 1958.
References: 1. Good Time Jazz discography at Both Sides Now (includes notes on the formation of Lester Koenig's labels Good Time Jazz, Contemporary, Stereo and Society for Forgotten Music.) 2. Sessionographies for the Contemporary group of labels (includes Good Time Jazz) at JazzDisco.org.
Further reading: Notes by Lester Koenig (Good Time Jazz founder), 1958, quoted at Jazz by Mail.
---