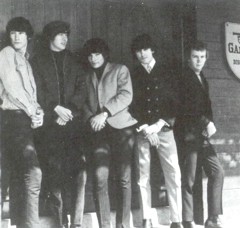 Pop/r&b band formed in 1965, led by Cincinnati-born Steve Kipner, produced by his father Nat who was A&R man and a major producer at Spin Records where he was responsible for the Bee Gees' later Australian singles.
During World War II Nat Kipner (1924-2009) had been stationed with the US Army Air Corps in Brisbane, Australia, where he married a local woman, and the family returned to live in Brisbane in the early 50s when Steve was a youngster.
Although Giggle Eyed Goo, the Nat Kipner composition on the other side, is the better-known song (#4 Melbourne #34 Brisbane #44 Perth), Rosalyn appears to have been the A-side. The record was initially released on the short-lived label Everybodys but reissued on its successor Spin soon after.
After Steve & The Board, Steve Kipner worked in a number of bands in Australia, Britain and the US, notably Tin Tin, formed with Australian Steve Groves and with the participation of former members of The Board. The Steve Groves composition Toast And Marmalade For Tea, produced in Britain by Maurice Gibb, was an international hit in 1971.
Steve & The Board's drummer, former child actor Colin Peterson (see Smiley), later joined fellow Spin artists The Bee Gees after they moved to Britain in 1967. Board guitarist Carl Keats – later known as Carl Groszmann – went on to write Status Quo's Down The Dustpipe (1970, #12 UK).
As a writer, Steve Kipner's work includes Olivia Newton-John's hit Physical, a US #1 in 1981, but see Wikipedia's Category:Songs written by Steve Kipner for more. See also the Songwriter Universe article (c.2001) on Kipner's successes in the US as writer and producer.
Father Nat Kipner also had a US #1 as a writer with John Vallins, who had been in Tin Tin and, before that, in The Kinetics with Steve Groves. Kipner Sr and Vallins wrote the Johnny Mathis and Deniece Williams hit Too Much Too Little Too Late (1978).
References: 1. Steve & The Board" in Ian McFarlane, Encyclopedia of Australian Rock & Pop (1999), pp.607-608. 2. Steve & The Board/Steve Kipner at Milesago; 3. Collection of Terry Stacey. 4. Steve Kipner at Songwriter Universe, and Category:Songs written by Steve Kipner at Wikipedia. 5. Nat Kipner page from Australians at War [archived page].
The Pretty Things - Rosalyn (1964)
Debut single by British band formed by Phil May and Dick Taylor, who had been at art college with Keith Richards of The Rolling Stones. Taylor had played bass in an early line-up of The Stones. Notable amongst the Pretty Things' recordings is their 1968 proto-rock opera album S.F. Sorrow. (RSE)
The songwriting credits are to Pretty Things manager Jimmy Duncan and to the single's recording engineer Bill Farley.
See PrettyThings.net for a detailed biography.
Also of local interest is drummer Vin Prince's book about the Pretty Things' 'two weeks of mayhem' in New Zealand in 1965, Down Bring Me Down… Under.