February 1964 release, produced by John De Marco at Blue Pacific Records in Hawaii. (Could this have been recorded in September 1963 when Robert Helpmann directed the Royal Ballet Company at the Waikiki Shell in Honolulu?)
Single on His Master's Voice (Australia), also on Blue Pacific (USA), by 54-year-old Australian ballet dancer, choreographer, stage and film actor, writer, director, producer and media personality (1909-1986), later Sir Robert Helpmann, knighted in 1968.
The song is a rewritten version of Sugar Doll (1961, see below). Sugar Doll and Surfer Doll both have I Still Could Care on their B-sides.
Robert Helpmann later collaborated with Surfer Doll/Sugar Doll co-writer Eaton Magoon Jr on Thank Heaven For The Heathen, a 1968 stage musical with music and lyrics by Magoon, book by Magoon & Helpmann. It was reworked as Heathen! for a Broadway opening in May 1972. A further revival played in Hawaii and New Zealand, entitled Aloha! A Spectacular New Musical, and a cast album was released in NZ (1981).
Eaton H. 'Bob' Magoon Jr (b.1922) was a Honolulu composer and realtor who had written the Broadway musical 13 Daughters (staged March 1961). He also co-wrote Numbah One Day of Christmas (1959, aka The 12 Days of Christmas Local Style), now a Hawaiian Christmas classic. In 1974, Eaton Magoon and his friend and business partner Jack Law established Honolulu's legendary gay venue Hula's Bar and Lei Stand in Waikiki.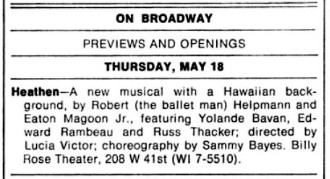 Clipping: "New York Magazine", 22 May 1972.
#28 in Adelaide…
"Surfer Doll", a rock 'n' roll tune that Magoon wrote with Eddie Miller, now of Los Angeles, became one of Australia's top songs in 1964.
Honolulu Star Bulletin, 1 August 1967, p.31.
References: I've used numerous sources for this page, including copyright records and contemporary news stories. I've linked to the essentials from the text, but if you want more details email me.
Eddie Miller - Sugar Doll (1961)
Single on Diamond Head label (Hawaii). The flipside was I Still Could Care, an Eaton Magoon Jr composition, copyrighted in 1952. I Still Could Care was also the B-side of Robert Helpmann's Surfer Doll.
---
September 1960:
Sugar Doll first registered for copyright, published by co-writer Magoon's Hawaiian Recording & Publishing Company.
April-May 1961:
Two syndicated columns briefly mention Eddie Miller ("rock 'n' roller") writing and recording Sugar Doll, but information about Eddie or his record are hard to find. (In June, columns were mentioning a further release by Eddie called Stare, another Magoon-Miller composition but again, no trace of an actual record).

January 1964:
In the month before the release of Robert Helpmann's record, Surfer Doll is registered by Magoon & Miller, with the note Applicant states previously registered as Sugar Doll… new lyrics.
Image: Eaton Magoon Jr in 1977, cropped from "Honolulu Star-Bulletin", full image and story here.
---
Eddie Miller? This is a Google-proof name. There have been numerous Eddie/Eddy/Edward/Ed Millers in sports and music over the years (this is not, for example the Eddie Miller who co-wrote "Release Me"). My only confirmed sightings of this Eddie Miller from 1961 have been the columns from April-May-June noted above, plus columnist Walter Winchell's equally brief mention of "Eddie Miller, new rock'n'roller" in May. All of these syndicated columns probably drew on the same publicity sheets for their brief mentions, which doesn't amount to much at all.
Diamond Head label? I'm guessing this was an enterprise of Eaton Magoon Jr, who lived in the Diamond Head area. I've read a good description of the Diamond Head 45 by a record dealer but so far no label shot.

Above: "Catalog of Copyright Entries: Third series, January-June 1964", Copyright Office, Library of Congress, Washington, 1966.