Single on West Australian label Clarion, recorded by a fresh line-up of the Off Beats put together in Perth by Ray Hoff.
From the late 1950s1 through the 1960s, Sydney-born rock and R&B vocalist Ray Hoff (Ray Hough, 1942-2010) led various line-ups of the Off Beats.2 The Who's Who of Australian Rock lists 32 members of the Off Beats 1958-1968.3 As Billy Thorpe biographer Jason Walker puts it,
Among aficionados in Sydney, Brisbane and Melbourne, Hoff's choice of only the best musicians for his band made him an influential, much admired leader. With impeccable taste he chose only the funkiest songs for his band The Offbeats to cover.4
Originally formed in Sydney but also based for periods in Perth and Adelaide, the Off Beats' popularity and credibility as a live act were not reflected in their recording career.5 They were signed to RCA in Sydney, and their single of Chuck Berry's Little Queenie had some success on radio, but it turned out to be a minor hit overall.6 Soon after, Hoff returned to Perth, having lost three band members to a new line-up of Billy Thorpe's Aztecs.

Tossin' And Turnin' was recorded in Perth with a re-formed Off Beats that included a four-member brass section.7 Both sides of another single on Clarion, Let's Go, Let's Go, Let's Go and Bama Lama Bama Loo, had also charted #8 in Perth earlier in 1966, and Tossin' And Turnin' was the third and last Off Beats single that would chart in a major Australian city. The band recorded their only album, Ray Hoff & The Off Beats, on Clarion in 1966.
Another Off Beats release was on Perth label Action, a single of Bobby Hebb's Love, Love, Love backed with an original, I've Got To Get You.8 Sources differ on whether this was in 1965 or 1967.9
References and notes:
1. For an account of the formation of the band, see the recollections of pianist Jimmy Taylor, a founding member of the Off Beats along with drummer Leon Isackson.
2. The band's name is often formatted as Offbeats, but Off Beats is authentic.
3. Chris Spencer et al, Who's Who of Australian Rock, (5th edition) 2002, p. 179
4. Jason Walker, Billy Thorpe's Time on Earth, (2009), p.74
5. Glenn A. Baker, "Earthy voice that never failed to excite", obituary in Sydney Morning Herald, 3 April 2010, p.10.
6. The two available Sydney chart books, Sydney Pop Music Charts 1953-2003 by Gavin Ryan and The Book by Jim Barnes et al, place "Little Queenie" at #31 and #39 respectively.
7. Ian McFarlane, The Encyclopedia of Australian Rock and Pop, (1999), p.291.
8. David Johnston, The Music Goes Round My Head, (2010), p.156.
9. Johnston and most other sources date "Love, Love, Love" as 1967, but Milesago's page on the Action label gives 1965.
---
Bobby Lewis - Tossin' And Turnin' (1961)
Tossin' And Turnin' was the first of two charting singles on New York label Beltone by Bobby Lewis: the second was One Track Mind (1961, #9 USA). He never had another hit, but was still active in 2011, aged 86.
Co-writer Ritchie Adams was in The Fireflies, singing lead on their single You Were Mine (1959, #21 USA). He became a prolific songwriter, often collaborating with Mark Barkan. One of his better known songs is After The Lovin', written with Alan Bernstein, a hit for Engelbert Humperdinck (1977, #8 USA).
Further reading: 1. Bobby Lewis biography by Bruce Eder at All Music. 2. Tom Simon's Bobby Lewis page. 3. Brief Wikipedia entry on Bobby Lewis. 3. Brian Lee's history and label shots of Ritchie Adams and The Fireflies at ColorRadio.
---
The Ivy League - Tossing And Turning (1965)

SIMILAR TITLE BUT NOT THE SAME SONG AS
'TOSSIN'AND TURNIN'' BY RAY HOFF & THE OFF BEATS.
This is the one that goes
I can't sleep at night, tossing and turning
The Bobby Lewis song recorded by Ray Hoff goes.
I couldn't sleep at all last night,
Just a-thinkin' of you
---
Dave Davani Four - Tossin' And Turnin' (1966)
Single on Parlophone. Dave Davani was a Hammond organist whose jazzy pop fitted right into Swinging London in the Mod era. He recorded the theme to Top Of The Pops and played at the essential London clubs.
Listen at Spin the Groove. Also at YouTube (audio with label shot).
References: 1. Notes by Alec Palao for the Dave Davani reissue anthology by Ace Records. 2. Label shot and other details at 45Cat.com.
Errata from Terry Stacey.
---
Bobby James And The Esquires - Tossin' And Turnin' (1964)
Single on Parlophone (Australia), B-side of Don't You Do That (#25 Adelaide), by Adelaide band formed in 1959 as The Tempests, initially with Brian Coughlan on vocals.
From the early 60s, featuring a new vocalist as Bobby James And The Esquires, they became regulars at Adelaide's Teensville Casual Club at the Palais Royal. The mid-60s dominance of the beat bands saw the decline of the old-time rock'n'roll dances, and the Esquires broke up in 1965.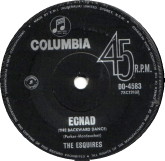 As The Esquires, the band also released an instrumental single on Columbia, Ecnad (The Backward Dance), a band original, backed with Lionel Newman's Theme From The Proud Ones.
After The Esquires, vocalist Bobby James fronted The Vibrants. They released two singles as Bobby James And The Vibrants, Jezebel (1965, #28 Adelaide) and I've Learned (1966, #51 Adelaide), before he left to form The Bobby James Syndicate, and The Vibrants found success in their own name.
Thanks to David Walker for clarification and label shots
and to Jim Probert of the Esquires for further information.
---
Chad Allan & The Expressions - Tossin' And Turnin' (1965)
Single on Quality by band previously known as Chad Allan & The Reflections. Some of their releases were teasingly labelled Guess Who? by their record company before the band became famous internationally as The Guess Who. Tossin' And Turnin' was also on the album Shakin' All Over (1965).
Further reading: 1. Shakin' All Over album details at GuessWhoFans.com. 2. At Wikipedia: The Guess Who's early career and line-up for Chad Allan & The Expressions. 3. Label shot of the single at RateYourMusic.com. 4. At ARSA: a selection of Canadian radio charts that list the Expressions' "Tossin' And Turnin'".
---
Dave Berry & The Cruisers - Tossin' And Turnin' (1963)
Single on Decca, B-side of Memphis Tennessee. The A-side charted in the UK (#19) and was popular in Australia (#10 Sydney, #1 Melbourne, #8 Brisbane, #3 Adelaide).
Dave Berry had eight singles on the UK charts, 1963-1966, the first two with the Cruisers. Berry's 1964 single The Crying Game, written by Geoff Stephens, was later heard in the 1992 film of that name.
Further reading: Label shots and other details at 45Cat.com.
---
The High Spirits - Tossin' And Turnin' (1965)
Single on Minneapolis label Soma by local band, produced by Rick London, B-side of (Turn On Your) Love Light.
Reference: Label shot, other details and comments at 45Cat.com.
---
Lulu - Tossin' And Turnin' (1966)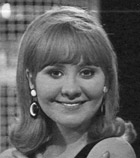 Single on Decca, produced by Ivor Raymonde. The A-side was a song written and produced by former Animals keyboardist Alan Price, What A Wonderful Feeling.
Reference: Label shot and details at 45Cat.com.
---
The Wilde Knights - Tossin' And Turnin' (1965)
Single on Star Bright, B-side of Beaver Patrol, by LA-based band originally from Longview, Washington.
References: 1. Notes, including band personnel, by AmericanGarageSongs at YouTube. 2. Label shot at 45Cat.com.
---
The Kingsmen - Tossin' And Turnin' (1966)
On 1966 album Up And Away by the Portland, OR band that made Richard Berry's Louie Louie famous (1963, #2 USA).
---
Gary Lewis & The Playboys - Tossin' And Turnin' (1965)
On the album Everybody Loves A Clown, featuring Gary Lewis's #4 hit of the same name plus covers of several pop songs of the era. Oh, and Time Stands Still, an original where Gary convincingly parodies his famous dad.
Further reading: Album review by Bruce Eder at All Music.
---
Danny King - Tossin' And Turnin' (1964)
Single on Columbia. Rock'n'roll singer Danny King (real name Arthur Benwell), fronted several Birmingham area bands in the 50s and 60s, when he worked with musicians who would later join such bands as The Move, The Moody Blues and The Uglys.
References: 1. Danny King and the Royals page at BrumBeat.net which also links to other Danny King band pages. (Collected on one page at Birmingham Music Archive). 2. Brief Danny King bio at WhyFame.com. 3. Listing, with label shot, at 45Cat.com.
Further reading: Mayfair Set page at TamworthMusic.com.
Version alert from Terry Stacey.