Single on Festival, October 1966.
The last single released by the band, with backing vocals contributed by The Bee Gees.
Ray Brown & The Whispers were a chart-topping Sydney band that originated in the surf music scene as The Nocturnes. After acquiring Ray Brown as their lead singer, they went on to become one of the most popular Australian bands of the British Invasion era. The focus was on Ray Brown, who became a star of the 60s Australian pop scene. See, for example, their major hits from 1965, Fool, Fool, Fool and Pride.
See also The Same Old Song, a post-Whispers solo hit by Ray Brown.
Collected on Of Hopes & Dreams & Tombstones: Beat 'n' R&B from Down Under from Ace Records' Big Beat label (UK).
Further reading: Ray Brown history at Milesago.
Disambiguation: 1. This is not Ray Brown, the American jazz bassist (1926-2002). 2. These Whispers are not the American R&B vocal group formed in 1964.
The Moonlighters - Too Late To Come Home (1966)
Single on Columbia, May 1966, B-side of We'll See It Through, same songwriters for each side.
This recording was by the writers of the song, using the name The Moonlighters.
Chris Arnold, David Martin and Geoff Morrow (also known collectively as Ammo) were frequent and prolific collaborators whose biggest hit was with Barry Manilow's version of their composition Can't Smile Without You (1978, #3 USA).
David Martin, who sang lead vocals on Too Late To Come Home, recorded the original version of Can't Smile Without You in 1975. He also recorded in the late 60s as David Lee Martin on Parlophone, and as Seth Martin on Page One. Most of those recordings were of Arnold-Martin-Morrow compositions.
The trio also wrote, for example, Annabella by Hamilton, Joe Frank & Reynolds (1971, #46 USA, originally by Dave Dee). Elvis Presley recorded four of their songs, including the title track of his 1970 album Let's Be Friends. Morrow & Arnold wrote Billy Fury's In Thoughts Of You (1965, #9 UK).
Although "The Moonlighters" saw themselves as songwriters moonlighting as recording artists, they later recorded their own compositions as Arnold, Martin, Morrow and as Butterscotch, under which name they charted with Don't You Know (She Said Hello) (1970, #17 UK).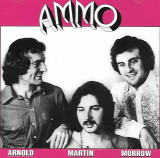 This Moonlighters track and its A-side appear on a 2012 collection of recordings by Arnold, Martin & Morrow, billed under their collective nickname of AMMO. It also includes tracks by Arnold, Martin, Morrow and by Butterscotch. Can't Smile Without You by David Martin is included, along with his recordings as David Lee Martin and Seth Martin. [Available from Angel Air Records.]
References, further reading: 1. Arnold, Martin & Morrow song list by Hoppy Asado [archived]. 2. Wikipedia entry on Geoff Morrow gives a broader view of his career including his work with Martin & Arnold. See also Geoff Morrow at United Agents. 3. David Martin's website at DavidMartinSingerSongwriter.com 4. AMMO: Can't Smile Without You 1966-1997, compilation album by Arnold, Martin & Morrow at Angel Air Records website. 5. The A-side 'We'll See It Through' bubbling under at Radio London's Fab 40, 15 May 1966. 6. Butterscotch biography at 45cat.com.
Thanks to David Martin and Alan Smith, also to teabiscuit via 45cat.com.
---
This is not the popular Swedish 60s-70s band called The Moonlighters, as some have supposed. There are other examples of groups with this name.