Mr George - Lazy Susan (1973)
Single on Philips, one of at least four by versatile Sydney pop band, formed 1973, with lead singers Norm Irwin and Jackie Rice. Also on the band's only album, On The Bandwagon (1974).
Lazy Susan also appeared as a B-side on a later single in the same year.
---
Jerry Fuller - Lazy Susan (1973)
Jerry Fuller's career as a recording artist began in the late 50s with Texas label Lin Records, but it was overshadowed by his achievements as a songwriter and producer.
Among his hit compositions were Ricky Nelson's Travelin' Man (1961, #1 USA), Young World (1962, #2) and It's Up To You (1962, #6); Gary Pucket & The Union Gap's Young Girl (1968, #2), Lady Willpower (1968, #2) and Over You (1968, #7); and Al Wilson's Show And Tell (1974, #1).
His production credits include O. C. Smiith's Son Of Hickory Holler's Tramp (1968, #40 USA) and Little Green Apples (1968, #2).
See also under John Rowles – M'Lady.
Further reading: Lists of Jerry Fuller's songwriting and producing credits (Internet Archive pages).
---
The Brothers - Lazy Susan (1958)
Same title but not the same song as 'Lazy Susan' by Mr George.
Single on Argo label, Chicago, B-side of Deep Sleep.
---

Some other red herrings:
Miles Davis – Lazy Susan (Miles Davis)
USA 1956 On Blue Note LP Miles Davis Vol. 1, also on Blue Note single #1649.
Checkmates Ltd featuring Sonny Charles – Lazy Susan (Harvey Trees)
USA 1969 Single on A&M, B-side of "Black Pearl" (#13 USA).
Little Anthony & The Imperials – Lazy Susan (Thom Bell – Linda Creed/Epstein)
USA 1973 On Avco LP On a New Street.
The Spinners (aka The Detroit Spinners) – Lazy Susan (Bell – Creed/Epstein)
USA 1974 On Atlantic LP New and Improved, also on 1975 single, B-side of "Sadie" .
---
Paul Osborne - Lazy Susan (1975)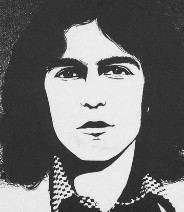 Single on DJM, produced by British composer David Mindel.
Paul Osborne was in Esprit De Corps, formed 1971, a British band that also recorded for DJM.
The label was formed by Beatles publisher Dick James and son Stephen, part of the Dick James Organisation.