Recorded in USA by Australian singer Lynne Randell (1950-2007), a former Melbourne hairdresser born in Liverpool UK, who toured the US on the same bill as The Monkees and Jimi Hendrix. Her biggest Australian hit was with the Larry Weiss-Scott English song Ciao Baby (1967), recorded in New York
Single on ABC #11112, not released in Australia, B-side of An Open Letter. Arranged and produced by Ernie Freeman. (Copies for sale online are often a reissue on the SC label, #1002.)
References, further reading: 1. Milesago's comprehensive Lynne Randell page. 2. Lynne Randell US singles discography at SoulfulKindaMusic.net. 3. Ernie Freeman page at SpaceAgePop.com. 4. Label details at TimberSearch.
Thanks to David Johnston and Mike Robbins.
---
Erma Franklin - The Right To Cry (1968)
Single on Shout by highly regarded soul and gospel singer, less well-known than her sister Aretha but given recognition in recent years through reissue CDs.
Erma Franklin (1938-2002) recorded the original version of Piece Of My Heart (1967), popularised by Janis Joplin with Big Brother & The Holding Company.
Further reading: 1. Erma Franklin biography at All Music Guide. 2. Wikipedia entry on Erma Franklin. 3. Erma Franklin tribute site.
---
Sandie Shaw - The Right To Cry (1968)
On November 1968 Pye album The Sandie Shaw Supplement, also the title of Sandie Shaw's 1968 TV series on BBC-TV.
Reference: Discography search at SandieShaw.com.
---
The American Breed - The Right To Cry (1968)
Track on 1968 album Pumpkin, Powder, Scarlet & Green by Chicago band best known for their hit with the Larry Weiss-Scott English song Bend Me, Shape Me (1967, #5 USA). Members of The American Breed were later in the 70s funk band Rufus.
---
Marian Love - The Right To Cry (1967)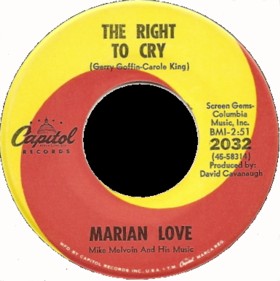 Marian Love was a promising jazz singer from Kansas who recorded some singles and an album for Capitol but quit the music business for teaching.
Single on Capitol, with Mike Melvoin and his Music. Produced by David 'Big Dave' Cavanaugh (1919-1981), a tenor saxophonist who worked at Capitol from the early fifties in several roles, including A&R man, producer, arranger and composer.
References: 1. Marian Love biography at All Music Guide. 2. Single review and label shot by Steve Guarnori at TooDarnSoulful.com (pdf). 3. Profile of David Cavanaugh at Interlude Era e-zine (the Wikipedia entry seems to be drawn from this).
Further reading: All Music Guide biography of Mike Melvoin. Melvoin's official site is at MikeMelvoin.com. Marian Love is not listed among the numerous artists he has worked with.
---
Lenny Welch - The Right To Cry (1967)
Single on Kapp. Reviewed in Billboard 18 March 1967. It seems to pre-date Marian Love's version by a few months.
Lenny Welch (b. 1938) first recorded without success for Decca before switching to Cadence for his one big hit, a 1963 #4 revival of Since I Fell For You, the much-recorded Buddy Johnson song from 1945. As Andrew Hamilton tells it at All Music Guide, Welch's career never recovered from its interruption by military service and by the closure of Cadence in 1964.
References: 1. Lenny Welch biography by Andrew Hamilton at All Music Guide. 2. Billboard review of Lenny Welch's version: Google Books. 3. Dating of Marian Love's version at 45Cat.com.
Thanks to Gerard for setting the record straight on this one. Gerard's page on The Right To Cry is at Multiply.com (register and log in to hear playlist).