Lynne Randell - Goin' Out Of My Head (1966)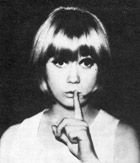 Lynne Randell (1950-2007), born in Liverpool UK, was an aspiring singer working as a hairdresser in Melbourne when she got her first big break. She toured the US on the same bill as The Monkees and Jimi Hendrix and recorded Ciao Baby (1967), her biggest Australian hit, in New York.
Further reading: 1. Milesago's Lynne Randell page. 2. The Lynne Randell entry at Wikipedia is comprehensive and well-sourced.
Little Anthony & The Imperials - Goin' Out Of My Head (1964)
Group from Brooklyn led by Anthony Gourdine, formed in 1958 as The Chesters. They had a hit in 1958 with Tears On My Pillow (#4 USA), broke up in 1960, and re-formed with three original members in 1964.
Song also recorded in the sixties by Stu Phillips, Cilla Black, Petula Clark, Wes Montgomery, The Zombies, Sergio Mendes & Brazil '66, Long John Baldry and Frank Sinatra (from a longer list by Arnold Rypens at The Originals website).
The Lettermen - Goin' Out Of My Head/Can't Take My Eyes Off You (1968)
The Little Anthony & the Imperials song paired with a Frankie Valli hit, recorded by easy listening harmony trio who first charted in 1961 with The Way You Look Tonight and When I Fall In Love.
Dodie West - Goin' Out Of My Head (1964)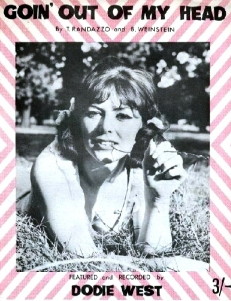 Single on Decca by British singer Dodie West, real name Doreen Bull, from the South Tyneside town of Hebburn in North East England. She sang with local band The Cougars before going solo and moving to London. There was at least one Dodie West album on Decca before she switched to the Pye subsidiary label Piccadilly for three further singles in 1965. Another single was released on Philips in 1968.
IMDb lists some appearances on British TV 1965-1966, including one on the major pop show Ready, Steady, Go! She was something of a regular on Stars and Garters, an ATV variety show.
References: 1. Label discographies at Global Dog. 2. Discography and label shots at 45cat.com. 3. Dodie West singles listed at PopMusicInfo.com 4. Dodie West at IMDb. 3. Dodie West thread at JarrowLife.co.uk community forum. 5. "Song title went out of my head", Shields Gazette, 14 January 2010. 6. Cover shot, track listing for Dodie West's album Walk Through This World at records-are-us.co.uk. 7. "Goin' Out Of My Head" chart stats and sheet music scan at ChartStats.com.
Further reading: The best source I've seen is the forum thread on Dodie West at JarrowLife.co.uk. The September 2010 post by Hartmann has an informative cutting from local paper The Shields Gazette. Listen: Audio of Dottie West's 1965 single 'In The Deep Of The Night' can be found at YouTube.
Some other mentions online: 1. Support act for Del Shannon and others, Feb & March 1965. 2. Competitor, Knokke-Heist song contest, Belgium, 1967. 3. At The Pack nightclub, Portsmouth, 1968.
Image: Sheet music scan (cropped) from ChartStats.com.
Not to be confused with the US country singer Dottie West. And The Cougars that Dodie West sang with are probably not the band of "Saturday Nite at the Duck Pond" fame who were from Bristol.