Kamahl - Sounds Of Goodbye (1969)
Single on Philips by iconic star of Australian music and TV over several decades. Kamahl's full name is Kandiah Kamalesvaran. He is of Sri Lankan background, a naturalised Australian born in Malaysia in 1937 who originally came to Australia in 1953 for secondary schooling in Adelaide.
Further reading: Official site at kamahl.com.
Suggestion from John Yeager.
Thanks to Chris Vening and Dave Overett.
---
The Gosdin Brothers - Sounds Of Goodbye (1968)
Single on Capitol, reviewed in Cash Box 24 August 1968.
The third competitive version of Sounds Of Goodbye joins the race via a highly attractive performance by The Gosdin Brothers. Although the other versions have a sizeable head start, this… may serve to close the gap.

Cash Box 24 Aug 68
The Gosdin Brothers were a progressive bluegrass/country-rock outfit associated with The Byrds, for whom they sometimes opened. Vern and Rex Gosdin were in The Hillmen with future Byrd Chris Hillman, and they recorded an album with Gene Clark in 1966, after he left The Byrds. (AMGC)
This was also on the album Sounds Of Goodbye (1968).
Further reading: Gosdin Brothers biography by Steve Huey at All Music.
---
Charlie Louvin - Sounds Of Goodbye (1968)
On Capitol album Hey Daddy on Capitol, December 1968.
Country singer Charlie Louvin (1927-2011) was from Alabama. A cousin of John D. Loudermilk, his birth name was Charles Elzer Loudermilk. After being one half of the influential harmony duo The Louvin Brothers from the early 40s, he went solo in 1963.
Further reading: Charlie Louvin biography by Stephen Thomas Erlewine at All Music.
---
Tommy Cash - The Sounds Of Goodbye (1968)
Single on United Artists, reviewed in Cash Box 10 August 1968.
With one of the best pieces of material he's had in a while, Tommy Cash makes a good bid to finally break into the big picture.

Cash Box 10 Aug 68
A week later, George Morgan's single was reviewed, and the two versions followed each other up and down the Cash Box and Billboard country charts.
Tommy Cash (b.1940) is a younger brother of Johnny Cash. His official site is at tommycash.com.
Sounds Of Goodbye was written by country singer-songwriter Eddie Rabbitt with Dick Heard, a Nashville-based songwriter, producer, publisher and manager. Elvis Presley's Kentucky Rain (1970, #16 USA) is a Rabbitt-Heard composition.
Eddie Rabbitt's biggest hits were Drivin' My Life Away (1980, #5 USA), I Love A Rainy Night (1981, #1 USA) YouTube, and Step By Step (1981, #5 USA), all written by Rabbitt with Nashville songwriters Even Stevens and David Malloy, and produced by Malloy. Rabbitt had a minor hit with Every Which Way But Loose (1979, #30 USA) the title song from the film.
Further reading: 1. Tommy Cash biography by John Bush at All Music. 2. Eddie Rabbitt at Nashville Songwriters Hall of Fame. 3. Dick Heard as songwriter and as producer, at 45Cat.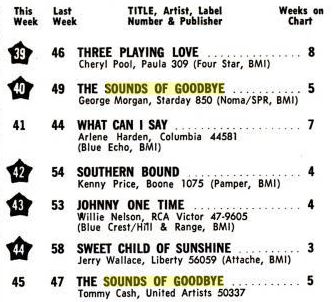 ---
George Morgan - Sounds Of Goodbye (1968)
Single on Starday, reviewed in Cash Box 17 August 1968.
Another excellent version of a topnotch piece of music… Competition with Sounds Of Goodbye may provide quite an interesting view from the sidelines.

Cash Box 17 Aug 68
This was a country hit for this Tennessee-born Grand Ole Opry singer (1924-1975) known for his 1949 hit Candy Kisses.
Further reading: George Morgan biography by John Bush at All Music.
---
Ray Pillow - The Sounds Of Goodbye (1969)
On ABC album Ray Pillow Sings Wonderful Day. Ray Pillow (b.1937) is a country singer from Lynchburg, Virginia who worked in Nashville from 1961. He became a long-standing Grand Ole Opry member and sucessfully moved into music publishing and management.
Further reading: 1. Ray Pillow biography by Sandra Brennan at All Music. 2. Discography at Petr Vitous's LP Discography site. 3. Biography at raypillow.com.
Version alert from Chris Vening.

---
O. C. Smith - Sounds Of Goodbye (1969)
On Columbia album For Once In My Life by Louisiana-born jazz, country, r&b and soul singer (1932-2001) who had been a vocalist with the Count Basie Band in the early 60s. He had hits on the mainstream charts with The Son Of Hickory Holler's Tramp (1968), Little Green Apples (his biggest hit, #2 USA, 1968) and Daddy's Little Man (1969) before moving into Christian ministry and forming his own church.
Reference: O.C. Smith biography by Ron Winn at All Music.
Version alert from Chris Vening.
---
Tony Middleton - Sounds Of Goodbye (1969)
Single on A&M by prolific and versatile soul-pop-jazz singer and actor, born in Richmond VA (1934) but living in New York from his late teens. For some of the early 60s he lived in Paris where he recorded as Tony Milton and toured European jazz venues.
Before going solo in the late 50s, Tony Middleton was in New York vocal group The Willows, with whom he wrote their single Church Bells May Ring (1956), quickly covered by The Diamonds (1956, #14 USA). His musical stage work includes the 1964 off-Broadway revival of Cabin In The Sky. He is known by many for the single Paris Blues (1966), a Northern Soul favourite [YouTube].
Essential reading: Tony Middleton by Peter Burns at SoulMusicHQ is the most comprehensive account I've seen in one place, and it draws on a 1999 interview with Middleton.
Other sources: 1. Tony Middleton's website, tonymiddletonmusic.com. 2. Tony Middleton at Discogs.com. 3. Tony Middleton: stage performances at ovrtur.com database. 4. Tony Middleton: film roles at IMdB. 5. Tony Middleton: singles discography at 45Cat. 6. Tony Milton (Middleton) releases in France, at 45Cat.