Judy Stone - Hello Faithless (1964)
B-side on Festival March 1964 by popular Australian singer, a regular on the long-running TV pop show Bandstand.
The A-side was the hit 4,003,221 Tears From Now (#7 Sydney #7 Melbourne #2 Brisbane #11 Adelaide).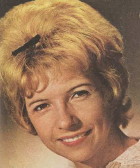 Judy Stone was often on the charts in Australia from the early 60s to the mid-70s. Most of her singles were versions of current or recent releases from America or Britain (with a couple of exceptions from Sweden and Italy). Her pleasant voice and personality boosted the appeal of the local product, and occasionally she would co-chart with the original version.
See also other Judy Stone singles at this site.
Further reading: Wikipedia article on Judy Stone.
---
Dora Hall - Hello Faithless (1963)
Single on Premere by singer known as the Queen of Vanity Entertainment. Also released on Calamo (1963), Premore (1964), Reinbeau (1966) and Cozy.
The labels were set up especially for Dora Hall (1900–1988) by her husband Leo Hulseman, wealthy owner of the Solo Cup Company, who financed her music career and distributed her records free with his company's line of disposable cups, plates and bowls. By the time Hello Faithful was released, Hall (1900-1988) was into her sixties.
---
In a memoir at Spectropop.com, the notable producer-songwriter Al Hazan recalls producing some other records for Dora Hall, which began with a call from her husband in late 1963. Hazan hired a distinguished array of talent for the sessions: the arranger was Jack Nitzsche, and the musicians included Leon Russell on piano, guitarists Glenn Campbell and Tommy Tedesco, bassist Carol Kaye and drummer Hal Blaine.
Mr Hulseman explained that his wife loved to sing and had the ambition to become a rock star. I thought that this was a bit strange since the woman looked in her sixties, however, I was always looking forward to working in the studio and recording my music... In a way I admired Ms. Hall for having the courage to follow her dream no matter what and, as far as I was concerned, her husband had hired me to do a job and I was doing it. That's why it's called the music business.

Al Hazan
---
Further reading: 1. Dora Hall fan site [archived page] 2. Dora Hall story at History's Dumpster. 3. Dora Hall biography at IMDb. 4. Memoir by Al Hazan, Prod. by Al Hazan, Arr. & Cond. Jack Nitzsche (Part 2), at Spectropop. 5. Leo Hulseman (1898–1989) at Wikipedia's Solo Cup Company page.
---
Rosemary Clooney - Hello Faithless (1963)
Single on Reprise, October 1963. It also became Track 1 on the 1964 album Thanks for Nothing.
Singer and actress Rosemary Clooney (1928-2002) started out singing on radio and with bands in the 40s. Her most popular solo records, many in the novelty style of the day, were released in the pre-rock'n'roll 50s. She starred with Bing Crosby and Danny Kaye in White Christmas (1954) and was often on TV, including on her own show. George Clooney is her nephew.
---
The songwriting credit Felice & Boudleaux Bryant appeared on many classic records, including Buddy Holly's Raining In My Heart. They are particularly associated with The Everly Brothers through such hits as hits as Bye Bye Love, Wake Up Little Susie, All I Have to Do Is Dream, and Bird Dog.
The Bryants' Hey Sheriff (covered by Johnny Rebb) and She Wears My Ring (Johnny O'Keefe) were well-known in Australia.
---
References, further reading: 1. Rosemary Clooney: bio, trivia & spouses at IMDb. 2. Selected list of Bryant compositions at Wikipedia. 3. Felice & Boudeleaux Bryant: The Marriage That Became a Hit Factory at Rockabilly Hall of Fame.