Johnny Young - Craise Finton Kirk (1967)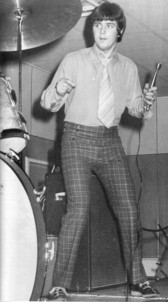 Single on Clarion label. In Perth only, this was a double-sided hit with I Am The World, written by Robin Gibb.
Johnny Young: Western Australian singer, songwriter, radio announcer and TV compere, real name John De Jong, often recorded with his band The Kompany. In later years he became best known for his long-running youth variety show Young Talent Time and the associated talent school, but his greatest claim to pop fame is for having written the Russell Morris classic The Real Thing.