On the EP All My Lovin' on C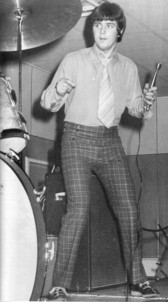 larion by Western Australian singer, songwriter, radio announcer and TV compere, real name John De Jong (b.1947).
All My Lovin' later became identified with Johnny Young after he used it as the closing song for his long-running TV series Young Talent Time (1971-1989).

Although his own hits (Step Back, Cara-Lyn, Kiss Me Now) were written by others, Young's main claim to pop fame internationally is for having written the Russell Morris classic The Real Thing. See also his composition The Star, recorded by Ross D. Wylie and by Herman's Hermits.
Further reading: Johnny Young at 6IX (2009, archived page).
Suggested by Terry Stacey and Gavin Ryan.
---
The Beatles - All My Loving (1963)
On the 1963 album With The Beatles.
It was the 1964 EP All My Loving that charted: details at DM's Beatles Site.
See the huge list of versions of All My Loving at this Beatles Covers site. Among the less obscure artists are Annette Funicello, The Hollyridge Strings, Herb Alpert, Count Basie, The Brothers Four, Sonny Curtis, Duke Ellington, Matt Monro, The Sandpipers, Jimmy Tarbuck, Max Bygraves, and Frank Sinatra.
---