B-side on Leedon, double-sided hit with the A-side When Will I Be Loved.
Johnny Young: West Australian singer, songwriter, radio announcer and TV compere, born John De Jong. In later years he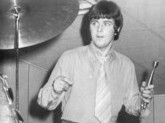 became best known for his long-running youth variety show Young Talent Time and the associated talent school, but his greatest claim to pop fame, internationally, is for having written the Russell Morris classic The Real Thing.
Further reading: Johnny Young history & discography at Milesago.
---
The Rajahs - Kiss Me Now (1964)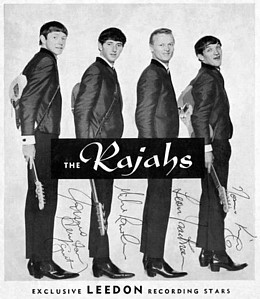 Sydney band that evolved from Dig Richards & The R'Jays, influenced on their own records by Beatlemania. Guitarist Lindsay King was famously known as Nosmo King (get it?).
After parting with Dig Richards, the band became Johnny O'Keefe's backing band for a time before establishing themselves as an independent act in the wake of Beatlemania. It was JO'K who suggested their name change to The Rajahs and their adoption of turbans as part of their stage gear. See also Johnny O'Keefe's 1964 rerecording of Shout with The Rajahs.
It's a long story, and Rajahs Jon Hayton and Leon Isackson told it well in their book Behind The Rock which can still be read online via the Wayback Machine archive. See also the history of the band from Howlspace [archived page].
Photo from Behind The Rock, with thanks to the copyright-holders.
---
Tommy Quickly & The Remo Four - Kiss Me Now (1963)
Liverpool singer Tommy Quickly (b.1945) was with The Challengers when he was signed by Beatles manager Brian Epstein who changed his name from Quigley and had him record with a well-established band already in his stable, Liverpool's Remo Four.
His first single was Tip Of My Tongue, a Song The Beatles Gave Away, but he didn't chart until Wild Side Of Life (1964, #33 UK YouTube), his fifth and final single.
Kiss Me Now was the first recorded song written by British songwriter Bill Martin. It was originally written for, but not used by, Gerry & the Pacemakers.
Bill Martin often wrote in partnership with Phil Coulter. There were numerous Martin-Coulter hit songs, including Puppet On A String, Surround Yourself With Sorrow and Congratulations. They also wrote Hi Hi Hazel, recorded by The Troggs and Geno Washington in the UK and covered in Australia by Grandma's Tonic.
Thanks to Bill Martin for his help with this.
References, further reading: 1. Bill Martin's website at BillMartinSongwriter.com 2. Tommy Quickly & The Remo Four from British Beat Boom [archived page]. 3. Remo 4 by Richie Unterberger at All Music. 4. David Bramwell, "Tommy Quickly: A Manager Recalls" from Mersey Beat.
---
Florence Devore - Kiss Me Now (Don't Kiss Me Later) (1965)
SIMILAR TITLE BUT NOT THE SAME SONG AS
'KISS ME NOW' BY JOHNNY YOUNG.
The writers, Marty Cooper & Bob Susser, were two of the writers of Trini Lopez's unfairly overlooked gem Up To Now which I've written about here and here. They also wrote the B-side of Kiss Me Now (Don't Kiss Me Later) with Cooper's wife Terry Sue Pinter, the third co-writer of Up To Now.
---

A couple of other red herrings:
Diana Ross – Kiss Me Now (Fuqua – Lupper)
USA 1976 On album Diana Ross, also on Motown single, B-side of 'Love Hangover' (1976, #1 USA).
Lila McCann – Kiss Me Now (Burr – Spiro)
USA 1999 On album Something In The Air (#5 Billboard Top Country Albums) by American country/pop singer, also released as a single (2000).