EP on Festival label, Shakin' At The Stadium. This version, with overdubbed applause, differs from the version released in the USA and UK (see below).
The original writers of Wild One were Dave Owens and John Greenan, Deejays saxophonists who drafted the song over drinks after a particularly wild concert. Johnny O'Keefe later contributed to the development of the song, and Sydney disc jockey Tony Withers was credited to help get radio airplay for the song.
Writer credits on future versions often omit Withers, who later worked in Britain on pirate stations Radio Atlanta and, as Tony Windsor, Radio London. See the Pirate Radio Hall of Fame's Spotlight on Tony Windsor.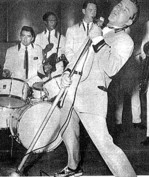 The song has often been renamed Real Wild Child or Real Wild Child (Wild One). Johnny O'Keefe's 1958 USA & UK singles used Real Wild Child (see below).
Johnny O'Keefe (1935-1978) was known in Australia as The Wild One, The King of Rock'n'Roll or just J.O'K. He was a pioneer Australian rocker, a chart topping artist in his home country. A TV mini-series about his life was made in 1985, Shout! The Story of Johnny O'Keefe.
References: 1. Damian Johnstone's definitive biography The Wild One (2001), pp.54ff. 2. Discussion from 2004 at rec.music.rock-pop-r+b.1950s. The post by Roger Ford includes a chronology of the song, with comments by Frank Calabrese.

Further reading/listening: Probe is Turning-on the People! has audio of four Wild One versions including JO'K's Brunswick release.
---
Ivan - Real Wild Child (1958)
Single on Coral by Jerry Allison (middle name Ivan), drummer and songwriter from Buddy Holly's Crickets. Also released in Australia, UK and Canada.
Jerry Allison heard the song on tour in Australia with Buddy Holly in late January 1958, with Johnny O'Keefe as a support act. Jerry Lee Lewis, who also picked up the song, was another star of the show.
Real Wild Child was recorded in mid-February 1958, soon after returning from Australia, at Norman Petty's Nor Va Jak Studios in Clovis, New Mexico. Buddy Holly was on guitar, with Joe B. Mauldin of The Crickets on bass, and session musician Bo Clarke substituting for Allison on drums. Buddy Holly sang backing vocals along with vocal trio The Roses.
The song was seen as an opportunity for a jokey treatment, and Allison has recalled attempting but discarding a James Cagney voice. Others have suggested he was indulging in self-parody, or a parody of current teen idol Ricky Nelson.
Sources: Jim Dawson & Spencer Leigh (comp), Memories of Buddy Holly (1996) p.57; John Goldrosen, The Buddy Holly Story (1979), pp.116-118, 248; Philip Norman, Rave On: The Biography of Buddy Holly (1997), p.183.
Thanks to Alan LaFlamme for emailing about this.
---
Iggy Pop - Real Wild Child (Wild One) (1986)
Produced by David Bowie & David Richards. On the 1986 album Blah-Blah-Blah, on A&M label.
Well known in Australia as the theme to the all-night pop music program Rage on ABC TV.
Listen: Audio at Probe is Turning-on the People!
---
Grantley Dee - Wild One (1966)
Same title but not the same song as 'Wild One' by Johnny O'Keefe.

Go here for history of this song, first recorded by Bobby Rydell.
---
Martha & The Vandellas - Wild One (1965)
Same title but not the same song as "Wild One" by Johnny O'Keefe.
---
Suzi Quatro - The Wild One (Chapman-Chinn) (1974)
Similar title but not the same song as "Wild One? by Johnny O'Keefe.
Rocking singer-guitarist, originally from Detroit, whose career kicked off in Britain.
---
Johnny O'Keefe & The Dee Jays - Real Wild Child (1958)
Single on Brunswick (USA), B-side on Coral (UK). The song is Wild One with a different title (taken from the lyrics).
This is often assumed to be a reissue of Wild One that was altered for its release as Real Wild Child, for example by having the overdubbed audience sounds removed. The Australian music collector, commentator and anthologist Tony Watson points out that this is in fact another take of Wild One which differs in other ways:
Festival liner notes have always put forward that the crowd overdub was the only difference… Ignoring the crowd overdub at the start, both versions have a different intro and JOK's vocal on the foreign versions is noticeably wilder than on the EP version issued here… As far as I know, the US/UK single version which, IMHO, is markedly superior to our version, was never issued in Australia… at the time, [but] it did finally appear on a local compilation LP in the 70's and is now commonly available on various JOK CDs here, including the 3CD JOK set, "The Birth of Australian Rock & Roll".
(Tony Watson, email to this website, January 2005)
---
---
Albert Lee - Real Wild Child (Wild One) (1982)
On the 1982 album Albert Lee.
Albert Lee: British-born R&B guitarist (b. 1943) whose considerable CV includes work with Chris Farlowe's Thunderbirds, Heads Hands & Feet, The Everly Brothers, Emmylou Harris, Joe Cocker and Bill Wyman's Rhythm Kings.
Not to be confused with his unrelated contemporary Alvin Lee of Ten Years After, with whom he played on Jerry Lee Lewis's 1973 London Sessions album.
---
Jet Harris - Real Wild Child (1962)
Inventive version on EP Jet Harris by former Shadows bassist, recorded in the year he went solo. He later formed a duo with Tony Meehan, former Shadows drummer, for a series of three instrumental hits in the UK in 1963: Diamonds (#1 UK), Scarlett O'Hara (#2), and Appplejack (#4).
---
Jerry Lee Lewis - Wild One (1958)
Sun recording, not released until 1974 on the British LP Rockin' And Free.
Jerry Lee Lewis also appeared on the 1958 Australian Buddy Holly tour with Johnny O'Keefe (see above).
Other versions include:
Johnny Devlin & the Devils (Australia, 1960)
The Guess Who on Wild One (USA 1970; A. Kobel, wrongly credited as writer, is Chad Allan, the band's original lead singer)
Christopher Otcasek (Pretty Woman film soundtrack, 1990)
BR5-49 (USA 1998)
Josie & the Pussycats (cartoon soundtrack 2001)
Sabrejet (USA 2003)
Status Quo (UK 2003?)
Wakefield (USA 2004, Eurotrip movie soundtrack)
See the APRA-AMCOS entry for Wild One (Real Wild Child) which lists numerous performers of the song. Even allowing for duplicates, it is an extraordinary list.
Thanks to Terry Stacey and to Porky for version alerts.