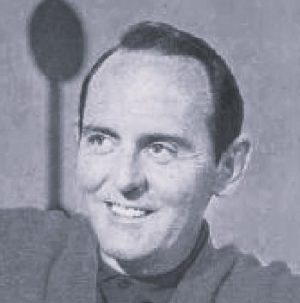 Single on Columbia December 1958, "With Orchestra Under the direction of Julian Lee".
Johnny O'Connor (1926-1998) was from Melbourne but lived in Sydney from 1950 after getting his break on radio's Australian Amateur Hour. He was often on radio, including on 2UW's Teenage Club with Bobby Limb from 1952 and his own Johnny O'Connor Show on the Macquarie Network from 1953.
O'Connor made television history when he sang on the Australian opening night in September 1956. His Johnny O'Connor Show was the first local variety show on Australian TV, produced by Sydney channel TCN9 from October 1956. He continued to appear on radio and TV in the following years, notably as a regular on longtime associate Bobby Limb's shows from 1957. He retired from entertainment in the late 80s after working in clubs including Paddington RSL where he had a long-term residency.

In 1953 O'Connor married Nola Lester of radio vocal trio The Lester Sisters. In 1956 Johnny and Nola returned to Australia after working in the UK for many months and appeared in a Sydney revue Mr and Mrs. Also in the cast were three other married entertainment couples including 22-year-old Barry Humphries and his wife Brenda.
Essential reading: Johnny O'Connor obituary, Sydney Morning Herald, September 1998.
Sources, further reading: 1. Advanced search of newspapers at NLA's Trove [browse results] and Newspapers.com. 2. Nancy Bridges, Wonderful Wireless (1983), passim and image (heavily cropped). 3. The Wikipedia article on TCN9's Johnny O'Connor Show.
---
"Lola Montez": original production - Saturday Girl (1958)
Neil Fitzpatrick as Daniel, Glen Balmford as Jane
From the Australian musical Lola Montez. It premiered in Melbourne in February 1958 at the Union Theatre, Parkville. Brisbane and Sydney productions followed from October 1958. The story takes place in Australia in 1855 when controversial Irish-born dancer and actress Lola Montez visited goldrush town Ballarat.
The composer is Peter Stannard, with lyrics by Peter Benjamin and book by Alan Burke. Stannard and Benjamin first worked together on student revues at the University of Sydney.
---
"Lola Montez": Original Cast Recording - Saturday Girl (1958)
Original recorded version
Michael Cole as Daniel, Jane Martin as Jane on Columbia album by the Brisbane-Sydney cast. Both opened October 1958: Brisbane ran 1-18 Oct '58, Sydney 22 Oct '58 – 14 Feb '59.
• In Melbourne Saturday Girl was sung by Neil Fitzpatrick as Daniel, Glen Balmford as Jane (opened February 1958).
• The album credits the Elizabethan Theatre Trust, the production company for Brisbane and Sydney. In Melbourne it was the Union Theatre Repertory Company.
Source: 1. Melbourne, Brisbane and Sydney casts listed at AusStage. The cast lists for Brisbane and Sydney are pretty much the same and the director is the same for both productions. 2. All issues of the album at Discogs.com.
---
Ernie Sigley - Saturday Girl (1959)
On EP Ernie Sigley by Melbourne radio announcer, singer and TV presenter (1938-2021).
Ernie Sigley started as a panel operator at Melbourne radio station 3DB in the early 50s. He was an announcer on 3DB, 3AK and 3AW and moved on to television in 1957 as compere of HSV7's Teenage Mailbag. For a while he worked on Radio Luxembourg, using the name Ernie Williams.
Back in Australia, in the mid-70s, he and Denise Drysdale hosted the high-rating Ernie Sigley Show, a national evening variety show. He fronted several Australian television shows, nationally and from various cities, but later returned to radio on the afternoon session at 3AW in Melbourne.
See also: Ernie Sigley – Love Is A Golden Ring (1957) and Ernie Sigley & Denise Drysdale – Hey Paula (1974).

References: 1. Ernie Sigley article at Wikipedia: recommended. 2. Ernie Sigley at Internet Movie Database.
---
Simple Minds - Saturday Girl (1989)

Same title but not the same song as 'Saturday Girl' by Johnny O'Connor.
B-side on Virgin by post-punk and pop band that emerged in late-70s in Glasgow.