Single on Festival (the Australian label). Charted in Melbourne November 1961, recharted January 1962 (#38).
Johnny Devlin (b. 1938 in Raetihi) was a New Zealander who had been a pioneering rock'n'roll star in his home country. Devlin's New Zealand success was in covering American rock'n'roll, and his repertoire included a range of astutely chosen covers, many away from the mainstream. However, most of his charting Australian records were originals, usually written or co-written by himself.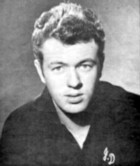 Devlin had sixteen songs on the Sydney charts alone 1959-1965. His biggest hits were:
Turn The Lights Out Johnny

(1959, #3 Sydney, #27 Melbourne, #2 Adelaide), an original rocker by Devlin;
the novelty Got A Zack In The Back Of My Pocket (1960, #7 Sydney, #19 Brisbane, #8 Adelaide), written by

Nat Kipner

, (a zack was a sixpenny piece); and
Stomp The Tumbarumba (1963, #5 Sydney, #5 Brisbane), by Devlin, a surf craze song that seems to refer to an inland New South Wales town.
As a songwriter, Devlin's credits also include:
See also: The Cicadas – That's What I Want (1964), produced by Johnny Devlin; and Teen Beat by Johnny Devlin's Devils, recorded in their own right.
Co-writer Nat Kipner (1924-2009) was an American stationed in Brisbane during World War II when he met his Australian wife-to-be. After the family returned to Brisbane in the 1950s, he went in with entrepreneur Ivan Dayman and producer Pat Aulton in Sunshine Productions, the parent company of the Sunshine label. Later, in Sydney, he became A&R man and a major producer at Spin Records where he facilitated the Bee Gees' sessions for their later, breakthrough, Australian singles.
His compositions include Giggle Eyed Goo, recorded by his son's band Steve And The Board (1965, #4 Melbourne #34 Brisbane #44 Perth); and Too Much Too Little Too Late, written with John Vallins, a hit for Johnny Mathis and Deniece Williams (1978, #1 USA).
References, further reading: 1. For the full flavour of Johnny Devlin mania from a New Zealand perspective, Bruce Sergent's account is indespensable. 2. AudioCulture's Johnny Devlin page adds a fine collection of images. 3. Milesago's Nat Kipner tribute and history. 4. For more on Nat Kipner and son Steve at this site, see under Steve & The Board's Rosalyn. 5. Nat Kipner page from Australians at War [archived page].
Additional details from Tony Watson and Terry Stacey, thanks.
Les Vautours - Hey Little Angel (Petite Angele) (1962)
The front of the sleeve shows the title as Hey Petite Angèle. On the back and on the label it's Hey Little Angel (Petite Angèle). Co-writer Kipner's name is consistently misspelled as Kipener.
Track on EP on French label Festival (no connection with the Australian Festival).
The French lyrics are by radio presenter and writer Pierre Saka (b. Pierre Sakalakis aka Jean-Michel Crétois, 1921-2010).
The other three tracks are also French-language versions of songs originally recorded in English, including Le coup du charme, a version of Elvis Presley's Good Luck Charm.
Les Vautours (The Vultures) were rock'n'rollers from Créteil in southeastern Paris. Formed in 1961, the band broke up a couple of years later but lead singer Vic Laurens (b.1945, Victor Laurent d'Arpa) went on to a successful solo career during the 1960s. His brother Tony D'Arpa was a guitarist in Les Chaussettes Noires (The Black Socks), notable contemporaries of The Vultures.
I haven't found other reported European versions of this, including a Dutch one. If you can help please email me.
References, further reading: 1. French Wikipedia articles on Les Vautours and Vic Laurens. 2. The website of Vic Laurens has a biography and image archives. 3. Pierre Saka at French Wikipedia and under Jean-Michel Crétois at Discogs.com. 4. Pierre Saka biography at Les auteurs et compositeurs de la chanson francophone.
Thanks to Gareth Jones via the Milesago Facebook Group.
Malbares - Petite Angele (2005)
On album Rock 'n' Roll Mob by comic rock & twist revival band from Villemomble, 14km east of Paris. Malbaré is from mal barré, meaning "bad start".
Merci à Philippe de me signaler les versions françaises.