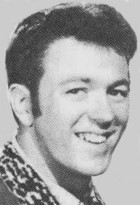 Single on Festival label.
Also released in USA on Coral #62335 with Hey Little Angel (an original written by Johnny Devlin & Nat Kipner).
Johnny Devlin (b. 1938 in Raetihi) was a New Zealander who had been a pioneering rock'n'roll star in his home country. Devlin's New Zealand success was in covering American rock'n'roll, and his repertoire included a range of astutely chosen covers, many away from the mainstream. However, most of his charting Australian records were originals, usually written or co-written by himself.
Johnny Devlin had sixteen songs on the Sydney charts alone 1959-1965. His biggest hits were:
As a songwriter, credits also include:
Digger Revell & The Denvermen – My Little Rocker's Turned Surfie (1964, #9 Sydney, #16 Brisbane); and
Digger Revell's Denvermen – Surfside, an instrumental written with (1963, #1 Sydney, #6 Melbourne).
Johnny Devlin also produced The Cicadas – That's What I Want (1964).
Johnny Devlin's Devils also recorded in their own right: see their charting single Teen Beat.
Additional details from Tony Watson and Terry Stacey, thanks.
Kris Jensen - Staying Up Late (1959)
Single on New York label Colpix, owned by Columbia Pictures.
Kris Jensen was a singer from Connecticut (b. 1942). He recorded for a number of labels 1959-65, notably Hickory in Nashville, with whom he had his only national hit with John D. Loudermilk's Torture (1962, #20 USA). See the Kris Jensen biography at Black Cat Rockabilly.
Rockin' Country style has a label shot of the Colpix single and a Kris Jensen discography.
Original identified by Tony Watson.