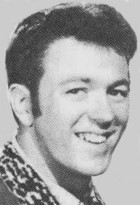 Single on Columbia label.
Johnny Devlin (b. 1938 in Raetihi) was a New Zealander who had been a pioneering rock'n'roll star in his home country. His New Zealand success was in covering American rock'n'roll, and his repertoire included a range of astutely chosen covers, many away from the mainstream. However, most of his charting Australian records were originals, usually written or co-written by himself.
Johnny Devlin had sixteen songs on the Sydney charts alone 1959-1965. His biggest hits were:
As a songwriter, credits also include:
Digger Revell & The Denvermen – My Little Rocker's Turned Surfie (1964, #9 Sydney, #16 Brisbane); and
Digger Revell's Denvermen – Surfside, written with (1963, #1 Sydney, #6 Melbourne).
Johnny Devlin also produced The Cicadas – That's What I Want (1964).
Johnny Devlin's Devils also recorded in their own right: see their charting single Teen Beat.
Additional details from Tony Watson and Terry Stacey, thanks.
Elvis Presley - I Was The One (1956)
Single on RCA, B-side of the #1 hit Heartbreak Hotel, Elvis's first national and international hit after signing to RCA from Sun Records, Memphis.
Also recorded, for example, by Andy Rose (1961), Jamie Coe, and Jimmie Dale Gilmore.

Original identified by Tony Watson.