John J. Francis - Play Mumma, Sing Me A Song (1973)
Co-charted with cover version by Rumour.
Track on the 1973 Warner album Breaks, Works and Thoughts.
John J. Francis (b. 1945), singer-songwriter and producer, lived in Newcastle, NSW from childhood.
In the 60s he was with Newcastle bands The Sorrows (1963-1965), The John Francis Collexion (c.1966-1967) and Magic (1969-1970), each of which released at least one single. The Sorrows single (Someday/I'm Lonely, 1964) was the only known release by Newcastle label Big Sound (see label shot at Milesago). Both sides of the John Francis Collexion single, You Tell Me and I Talk To Trees (RCA, 1967), were John J. Francis compositions.
After releasing four solo albums, some singles and an EP through Warner 1972-1974 John J. Francis apparently quit the music business permanently. He was heard for several years as a presenter on the midnight-to-dawn shift in the early days of 2JJ, ABC Radio's youth station launched in Sydney in 1975.
John J. Francis is also remembered for Simple Ben YouTube, another track on Breaks, Works and Thoughts that was heard on the soundtrack to Albie Falzon's surf film Morning Of The Earth (1972).
See also: Maple Lace – Gimme Dat Ding (1970), co-produced by John Francis on Caesar's International.
Further reading: 1. John J. Francis is Alive and Well Despite Being Killed Off by the ABC (Noise11, April 2019).2. Discography and photos from the Newcastle Bands Database: see the John J. Francis and Sorrows pages (archived at Internet Archive, but the whole site is now restored here).
3. The John J. Francis website is defunct but can be viewed at Internet Archive (limited functionality).
References:
1. Chris Spencer, Australian Rock Discography 1956-1969 and 1970-1979.
2. Double Jay: The First Year at Milesago.
3. Ian McFarlane, Encyclopedia Of Australian Rock & Pop.
4. Chris Spencer et al, Who's Who In Australian Rock.
5. The Second Wave Australian Rock & Pop 1964-1969: National Screen & Sound Archive discography
6. Big Sound label at Milesago.
---
Rumour - Play Mama Play (1973)
Co-charted with the original by John J. Francis.
Single on Warm & Genuine in Australia and (through Phonogram) in NZ, renamed version of Play Mumma, Sing Me A Song.
Produced by G. Wayne Thomas.
Rumour was a New Zealand band from Huntly, formed in 1966 as The Surfires. Guitarist, pianist and songwriter Shade Smith also recorded as a solo artist and wrote Sunshine Through A Prism, a NZ #15 for Suzanne in 1972.
Not to be confused with Graham Parker's band The Rumour (UK).
Reference, further reading: Bruce Sergent's history of Rumour.
---
Digby Richards - Play Momma Play (1978)
Single on Polydor YouTube, B-side of Don't Jump Off The Boat.
Digby Richards (1941-1983), earlier known as Dig Richards, was a prolific and versatile Australian rock and pop star who was in the charts from 1959 and into the 70s when he favoured a country style.
Further reading: Dig Richards page from Howlspace (archived version).
---
Jeff Hilder - Play Mama Play (1976)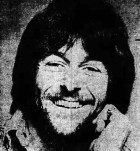 Single on Laser. See also Discogs.com's label discography for Laser 1975-1989.
Australian singer Jeff Hilder had already made the charts in Venezuela where he worked after first trying his luck in Spain and London. (His record Mañana será otro día, for example, was at #6 in Venezuela on 6 February 1972.) He changed his name from Geoff to Jeff for his Spanish-speaking audience.
The B-side is Lonely Boy: see under MPD Ltd.
Sources: 1. "Jeff Hopes For A Loud 'Si, Si'", Sydney Morning Herald, 24 October 1976, p.86. 2. Listed in Paul McHenry, Cover Me.

Venezuelan chart data 6/2/72 from Hoy en la Historia del Pop Rock Venezolano at Facebook.
(May show translation, depending on browser settings.)