Single on Pye (NZ). Label shows Human Instinct, sleeve shows The Human Instinct as do the labels on their British singles.
In 1966 successful New Zealand band Four Fours tried their luck in London, changing their name to Human Instinct along the way. After acquiring management in Britain, they toured extensively and recorded for British labels Mercury and Deram.
Drummer-vocalist Maurice Greer returned to New Zealand after a couple of years and re-formed the band, bringing in guitar legend Billy TK (Billy Tekahika). After another visit to London, Human Instinct released three NZ albums 1969-71 with Billy TK on Guitar. Black Sally was one of two singles from the second, Stoned Guitar (1970).
The B-side, Tomorrow, is a version of Tomorrow I'll Go which had appeared on the UK album Confusions About A Goldfish (1969) by John Kongos, the South African singer-songwriter best known for the much-covered He's Gonna Step On You Again aka Step On.
References, further reading: 1. Human Instinct and Four Fours pages at Bruce Sergent's NZ music site. 2. The Human Instinct at Audio Culture. 3. Billy TK: Official site and Wikipedia article. 4. NZ releases by (The) Human Instinct and UK releases by The Human Instinct at 45Cat.
Mecca - Black Sally (1970)
Single on Festival by Sydney rock group that featured the notable guitarist Dennis Wilson, also a singer, songwriter and session musician who had been in several bands including Powerpact, the band that grew into Mecca (1968-70). After Mecca, Wilson and Mecca's bassist Bob Daisley joined with other established musicians to form Kahvas Jute, a highly-regarded progressive rock band.
Wilson went on to a diverse and distinguished career over several decades, and Daisley has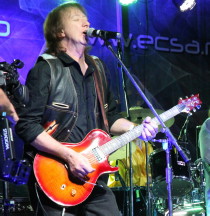 worked with Ozzie Osbourne and other international rock stars.
References, further reading: 1. Dennis Wilson's website. 2. Bob Daisley biography at Wikipedia. 3. The Kahvas Jute page at Milesago includes information about Mecca and about Dennis Wilson's career.
Image: Dennis Wilson at Sydney Blues & Roots Festival, 2014, photo by Terry Stacey.