Graham Chapman - Gee I'm Gonna Miss You (1968)

Single on Kommotion.
Graham Chapman (1949-2009) was a British-born singer whose family had emigrated to Brisbane. He recorded seven singles 1966-1971 on Kommotion, Columbia and HMV of which Gee I'm Gonna Miss You was the best selling, although his first single, Baby Let Your Hair Down (1966), has earned some recent critical recognition.
---
In the mid-70s Graham Chapman moved to New Zealand and soon after became lead singer of Salty Dogg, a band that released two singles and an album 1976-1977. After Salty Dogg broke up, he stayed on in New Zealand for a while before returning to Sydney where he worked in the clubs for many years as a singer and compere. See the Salty Dogg page at Bruce Sergent's NZ Music site, and gallery at the site of Salty Dogg member Mike Harvey.
---
Graham Chapman on CD: His first single, Baby Let Your Hair Down is anthologised on Ace Records' Of Hopes & Dreams & Tombstones: Beat 'n' R&B from Down Under [Amazon
]
Further reading: An entry at this page (writer and sources not given) gives Chapman's birth details as 9 February 1949 in Watford and states that he was groomed as a new pop star after Normie Rowe was conscripted.
Thanks to Mike Harvey and Bruce Sergent.
The Improper Bostonians - Gee I'm Gonna Miss You (1967)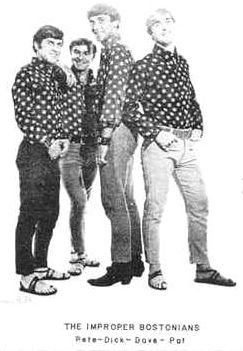 Band from Boston that had four singles on Minuteman 1966-67, representing a third of the label's total output. Four of the eight Improper Bostonians tracks were Walsh-Ahern compositions, and another was written by Walsh alone.
The first two A-sides had some radio airplay, mainly in Boston: see How Many Tears (Walsh-Ahern) and Set You Free This Time at the ARSA radio chart site.
Personnel: Dick Jeffrey (lead guitar), Pat O'Connor (drums), Peter O'Connor (rhythm guitar) and David Peterson (bass).

Single on Minuteman and Coral labels.
References: 1. The Improper Bostonians at New England Music Scrapbook, now offline but archived at Internet Archive. 2. Minuteman label discography at Global Dog. 3. Radio charts at ARSA: The Improper Bostonians.