Single on Du Monde featuring This Hallelujah Chorus, arranged and produced by John Eggington.
He started out as an apprentice jockey, but the career of Donnie Sutherland (b. 1946) has included singing, songwriting, radio announcing, TV hosting and journalism.
He began in radio as a disc jockey at Sydney station 2UW and has also been on 4BC, 2UE and 2KY. Publications he wrote for included the pop weekly Go-Set and Sydney's Sunday paper The Sun-Herald.

He is perhaps best known as host of the Saturday morning TV pop show Sounds, (originally Sound Unlimited) from the mid-70s till the late 80s, first on Channel 7 in Sydney and later around Australia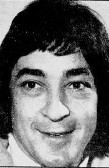 Donnie Sutherland OAM was awarded the Medal of the Order of Australia in 2000 for service to the music and entertainment industries, particularly the promotion of Australian performers, and to the community as a compere of fundraising events. In 2001 he was awarded the Centenary Medal for service to the Centenary of Federation celebrations.
Further reading: 1. Career highlights from Donnie Sutherland's website [archived page]. 2. The Donnie Sutherland article at Wikipedia has updates to 2014.
Suggestion from Terry Stacey.


Column in the Sun-Herald, Sydney, 1984.
---
The Pop Workshop - Fairyland (1968)
Single on Page One, arranged by Wombles composer-producer-arranger Mike Batt: see, for example, The Wombling Song (1973, #4 UK).
Ben Findon's compositions include Billy Ocean's hit Love Really Hurts Without You (1976, #2 UK #22 USA #3 Australia), co-written with Les Charles and produced by Findon. See his composer and producer credits at 45cat.com.
The Pop Workshop were from Harrow, in north-west London.
The band was formed in 1966 by Alan Box and Dale Evans who had been together in Nite Sect. After three members of that band left, Box and Evans recruited two new members and formed The Locomotion. They performed under that name around London's west for two years before being signed to Larry Page's recently formed label Page One and changing their name to The Pop Workshop.
In the line-up were Alan Box (vocals and guitar), Dave Evans (lead guitar), Andy Love (bass) and Terry Gibbs (drums).
Singles discography:
Fairyland (wr. Ben Findon) / When My Little Girl Is Happy (wr. Terry Gibbs), 1968, Page One #POF 091
Punch And Judy Man (wr. Geoff Westley & Tony Britton) / Love Is A One Way Highway (wr. Andy Love), 1969, Page One #POF 129
What would you do if someone said to you "meet me Saturday night in fairyland?" Please don't answer that question. Anyway, that's the premise of this song that is neatly set on top of a Motown beat. But the lyrics and arrangement transform its otherwise derivative musical backing into something special. The song was written by harmony pop master Ben Findon and the arrangement is by Mike Batt.
– Mark Frumento, Trip to Toyland Part 3 at Marmalade Skies.
References, further reading:
1. This blog post by Sebastián Vientos at Canciones Atómicas gathers some useful information about The Pop Workshop.
2. I gleaned some information by peeking (via Google search summaries) at now-deleted content at the MySpace pages of Pop Workshop and Alan Box.
3. 45Cat's page for The Pop Workshop's 'Punch And Judy Man' includes a 1969 press release from Page One Records.
4. For the extent of Mike Batts's involvement with The Wombles' oeuvre, see this page at 45Cat.com.
5. Vernon Joynson's reference classic Tapestry of Delights has a brief entry on The Pop Workshop and their "pleasant pop 45s".
6. At Marmalade Skies Mark Frumento includes 'Fairyland' at #55 on his list of the retrospectively named pop genre "toytown": Trip to Toytown Part 3.
7. For more on Larry Page and his Page One label start here, at Wikipedia. See also BSN"s Page One Album Discography which includes some background.
---
Brenda Lee - Fairyland (1957)

SAME TITLE BUT NOT THE SAME SONG AS 'FAIRYLAND' BY DONNIE SUTHERLAND.
Single on Decca, B-side of One Step At A Time.
The Second Movement's Australian B-side on Parlophone (1968), sometimes listed as Fairyland, is a different song with the full title Fairyland (Why Oh Why).