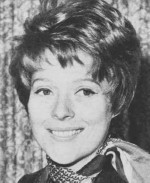 Single on W&G YouTube July 1958, the first by Australian singer from Melbourne who was soon to establish a successful career in the USA.
When she moved to America in 1959, nineteen-year-old Diana Trask (b.1940) had appeared regularly on Australian TV and radio, and had toured with major visiting artists. She initially appeared at New York's Blue Angel nightclub before becoming a regular on Mitch Miller's high-rating TV show Sing Along with Mitch YouTube.
Her second single, Soldier, Won't You Marry Me (#35 Melbourne) was released in September 1959 on US label Roulette, and in October on Leedon in Australia.
Her first album, Diana Trask, arranged and produced by Glenn Osser, came out on Columbia (USA) early in 1961. It was followed the same year by an album with Mitch Miller's chorus. (Nowadays the Diana Trask album appears as Vocal Jazz Classics on streaming services).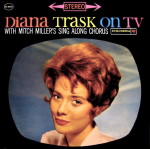 After a return sojourn in Australia, Trask emerged in the late-60s and throughout the 70s as a successful country singer, living and recording in Nashville. Her breakthrough album was Miss Country Soul (1969) on Dot.
In her home city of Melbourne Diana Trask had six Top 40 singles 1959-1975, including a lesser-known Burt Bacharach and Hal David composition Long Ago Last Summer (1960, #10 Melbourne, #39 Sydney) YouTube.
Her biggest hit in Australia was with the Tony Romeo composition Oh Boy (1975, #2 Melbourne, #4 Sydney, #2 Adelaide, #7 Perth; USA 1974, #16 Cash Box Country Top 75, charted 1975) YouTube.
See also my 2020 blog post about Oh Boy.
Frank Sinatra has often figured in Trask's story, as a romantic attachment or as a facilitator of her American career. She was a support act on his 1959 tour of Australia, and he appears to have encouraged her move to the US. She has denied that there was any romance, and has asserted that it was her agent, not Sinatra, who got her the breaks in the US. Even so, her image would have been enhanced by stories about Sinatra "discovering" her, and his attendance at her Blue Angel opening.
Further reading: 1. "Diana Trask is a Hit on Broadway", Australian Women's Weekly, 16 September 1959. (read at Trove). 2. "Diana Trask is Happy and Triumphant", Australian Women's Weekly, 2 September 1970 (read at Trove). 3. Diana Trask's website at dianatrask.com. 4. Wikipedia's Diana Trask discography covers her whole career and shows chart placings for her records. Click through to the biography. 5. 2015 TV interview with Diana Trask from Australia's Channel 10 network.
Molly Bee - I'm Going Steady With A Dream (1957)
Single on Capitol YouTube November 1957 by country music singer Molly Bee (Mollie Beachboard 1939-2009).
From the soundtrack of Going Steady (released February 1958). Molly Bee had a leading role in the film.
Also released in UK and Australia with the title Going Steady (With A Dream).
The writers: Quine and Karger collaborated on several songs, most of them film tie-ins. Richard Quine (1920-1989) was an actor, director, singer, composer and lyricist who had been a child actor in the 1930s. Fred Karger (1916–1979) has many musical film credits including composer, music supervisor, and conductor. He was a Hollywood vocal coach, notably to Marilyn Monroe. (Not to be confused with US political figure Fred S. Karger, born in 1950.)
Further reading: 1. Molly Bee: biography and filmography at IMDb. 2. Molly Bee biography by Stephen Thomas Erlewine at All Music. 3. Molly Bee: singles discography at 45cat/com.