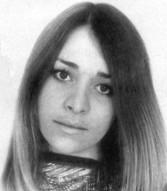 Colleen Hewett (b.1950) came from Bendigo in regional Victoria. Starting as a pop singer with local bands, she later branched out into acting and entertaining on stage, screen and radio. In the early 70s, for example, she was in the Australian cast of Godspell and recorded a hit version of Day By Day from that musical. More recently, Colleen played Peter Allen's mother on stage in The Boy From Oz, starring Hugh Jackman.
Feature suggested by Terry Stacey.
---
The Carpenters - Superstar (1971)
Colleen Hewett's version came out a few months earlier than this one.
Richard Carpenter first heard Superstar when it was sung by Bette Midler on Johnny Carson's TV show.
---
Rita Coolidge - Superstar (1970)
First recorded under an alternative title, Groupie (see below). Also known as Groupie Song.
Rita Coolidge first performed this on stage during the Joe Cocker Mad Dogs & Englishman tour of the US, and it later appeared in the documentary film and live album of the tour.
The song is said to have been suggested to Leon Russell by Rita Coolidge, who worked with Bonnie Bramlett as the song was being developed. (Article at Blender magazine, now offline.)
Also recorded notably by Luther Vandross and Sonic Youth.
Usually credited to Leon Russell & Bonnie Bramlett, but Delaney's name also appears as co-writer at the BMI listing.

Red herrings? Search for the song title Superstar at BMI, the American publishing rights organisation, and you'll get 237 results: that's 237 songs called Superstar. Feel free to browse them!
---
Delaney & Bonnie - Groupie (1969)
B-side of single on Atco label, Comin' Home.
Groupie is an alternative title for the song Superstar, also known as Groupie Song.
As well as Bonnie doing the lead vocals and Delaney (guitar & vocals), this session at A&M records included Rita Coolidge (vocals), Eric Clapton and Dave Mason (guitar), Bobby Whitlock (keyboards), Carl Radle (bass), Jim Gordon (drums), Bobby Keys (sax), Jim Price (trumpet) and Tex Johnson (percussion). Not a bad line-up!
Further reading: history of this song at The Originals website.
Thanks to Terry Stacey for additional information.
---
The New Dream - Groupie (1969)
Same title but not the same song as 'Groupie' (aka 'Superstar') by Delaney & Bonnie.

See New Dream – Groupie song history.
---
Spring - Superstar (1972)
On album Spring by two former members of Beach Boys girl group associates The Honeys. One of the duo was Marilyn Wilson, married to Brian Wilson 1964-1979.
Spotted by Terry Stacey.