Col Joye was a pioneering Aussie pop star of the rock'n'roll era (b. Colin Jacobsen, 1937) who in 1957 joined his brother Kevin's jazz band that was to become Col Joye and the Joy Boys.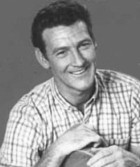 He had ten Top 10 hits in the Sydney charts alone from May 1959 to May 1962, including four #1s, and was a star on television pop show Bandstand. Something of a legend in Australia, his rock'n'roll suit is on display at Sydney's Powerhouse Museum.
Not to be confused with Col Joye's recording of Sweet Dreams Of You.
Further reading: See, for example, the Col Joye bio at AllMusic.
Dave Sampson - Sweet Dreams (1960)
Single on Columbia by British rocker (1941-2014), sometimes referred to as one of the unsung heroes of the Sixties. Label shows DAVE SAMPSON and The Hunters.
Dave Sampson formed his first skiffle band in 1957 with Martin Murray (later of The Honeycombs). He moved on to play in various bands on the London rock'n'roll scene, notably The Parker Royal Four which included some schoolmates of Cliff Richard. After meeting and performing with Cliff and The Shadows, Dave wrote Sweet Dreams with Cliff in mind, but producer Norrie Paramor ended up signing Dave to record the song himself.
During the 60s Dave toured with a number of British pop stars of the day. As well as Cliff Richard and the Shadows, they included Billy Fury, Marty Wilde and Joe Brown. From 1963 he worked in Hamburg at The Star Club and The Top Ten Club along with The Beatles and other international stars including Jerry Lee Lewis.
In 2005 he appeared with the legendary guitarist James Burton in the Ricky Nelson tribute show, Remembering Ricky.
RPM Records have released a CD of the Abbey Road recordings of Dave Sampson & The Hunters, including Sweet Dreams and its demo version.


Thanks to Dave Sampson for biographical details and photos.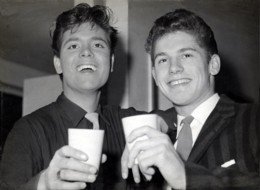 Dave Sampson with Cliff Richard.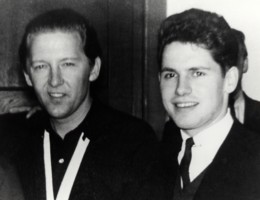 With Jerry Lee Lewis.