COL JOYE
Vocal
With the Joy Boys
---
Single on Festival. Co-charted in Sydney with US version by Ricky Nelson.
Col Joye was a pioneering Aussie pop star of the rock'n'roll era (b. Colin Jacobsen, 1937) who in 1957 joined his brother Kevin's jazz band that was to become Col Joye and the Joy Boys. He had ten Top 10 hits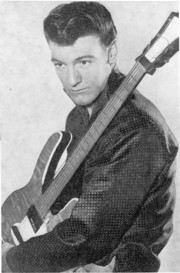 in the Sydney charts alone from May 1959 to May 1962, including four #1s, and was a star on television pop show Bandstand. Something of a legend in Australia, his rock'n'roll suit is on display at Sydney's Powerhouse Museum.
Further reading: See, for example, the Col Joye bio at AllMusic.
---
Ricky Nelson - Yes Sir, That's My Baby (1960)
Single on Imperial label, B-side of I'm Not Afraid which also charted in USA in its own right (#27 USA). (Don't miss the excellent discography at the official Rick Nelson website.)
Yes Sir, That's My Baby co-charted in Sydney with the Australian version by Col Joye & the Joy Boys.
Also recorded by:
– The Sensations 1955
– The Four Aces 1957
– J.J. Johnson & Kai Winding
– Ruth Brown 1964
– Melanie
---
[Published manuscript] - Yes Sir, That's My Baby (1925)
See sheet music cover at Perfessor Bill Edwards's website.
Yes Sir, That's My Baby is associated with Eddie Cantor although he seems not to have recorded it until 1930. The story goes that Donaldson and Kahn came up with the song while visiting the Cantor household, inspired by a toy mechanical pig owned by Cantor's young daughter.
(Retold, for example, at the Fornof Family website.)
The song has been recorded many times, including on the soundtracks of Yes Sir, That's My Baby (Donald O'Connor, 1949), I'll See You In My Dreams (Doris Day, 1951: the biography of Gus Kahn) and The Eddie Cantor Story (voice of Eddie Cantor, 1953).
Donaldson & Kahn were a highly successful songwriting team from the early 20s. Their songs include Makin' Whoopee, Carolina In The Morning and My Baby Just Cares For Me.
---
Gene Austin - Yes Sir, That's My Baby (1925)

78 RPM record on the Victor label.
Singer from Texas (1900-1972), born Eugene Lucas, whose 1927 hit My Blue Heaven was one of the biggest selling records of the pre-rock'n'roll era. See Donald Clark's entry on Gene Austin, MusicWeb Encyclopaedia of Popular Music.
The Online Discographical Project lists many versions from 1925.
The earliest recording sessions (not release dates) are:
– Gene Austin – Victor – 24 April 1925
– Ace Brigode & his Fourteen Virginians – Columbia – 30 April 1925
– Nathan Glanz & his Orchestra – Clover – ?? April 1925
– Blossom Seeley – Columbia – 15 May 1925
– The Chateau Orchestra – Domino – 25 May 1925
– Johnny Ogden's Sunset Orchestra – Sunset – ?? May 1925.
Although we do not have exact release dates, I believe Gene Austin is the strongest contender for original status: major songwriters, major publisher (Irving Berlin Music), major record label and early session date. Gene Austin's record is perhaps most often cited as the original, but I have also seen Abe Brigode's cited.