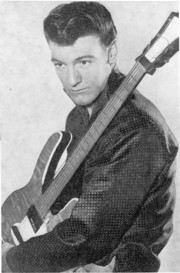 COL JOYE AND THE JOY BOYS
Vocal Col Joye with the
New Notes
---
Single on Festival, Sydney, notable for being the first Australian-made pop record of the rock era to chart nationally at #1.
See also the B-side Living Doll (#3 Sydney).
Col Joye was a pioneering Aussie pop star of the rock'n'roll era (b. Colin Jacobsen, 1937) who in 1957 joined his brother Kevin's jazz band that was to become Col Joye and the Joy Boys. He had ten Top 10 hits in the Sydney charts alone from May 1959 to May 1962, including four #1s, and was a star on television pop show Bandstand. Something of a legend in Australia, his rock'n'roll suit is in the collection at Sydney's Powerhouse Museum.
Further reading: See, for example, the Col Joye bio at AllMusic.
Mickey & Sylvia - Oh Yeah Uh Huh (1958)
Single on RCA Victor, B-side of To The Valley. The songwriters are Mickey & Sylvia, using pseudonyms.
Mickey & Sylvia were McHouston 'Mickey' Baker and Sylvia Robinson (nee Vanderpool), prolific session musicians, songwriters and performers, best known for Love Is Strange (1956), which they co-wrote with Bo Diddley (his wife's name, Ethel Smith, was the songwriter credit). Love Is Strange charted again in 1967 for Peaches & Herb.
Sylvia went on to form All Platinum Records with her husband Joe in 1968 where she wrote for and produced such artists as Shirley (And Company) (Shame, Shame, Shame, 1975) and The Moments (Love On A Two-Way Street, 1970). She had a hit of her own – as Sylvia – with Pillow Talk (1973).
Further reading: Don't miss Brian Lee's extensive Mickey & Sylvia page which includes both a label shot and a RealAudio file of Oh Yeah Uh Huh. For Sylvia's later career, see the Sylvia Robinson Page at Soulwalking.
Thanks to Tony Watson for initial research.