COL JOYE AND THE JOY BOYS
Vocal-Col Joye with the Graduates
and The New Notes
---
Don Fisk in a 1998 post to rec.music.rock-pop-r+b.1950s says that, according to Col Joye, American singer/songwriter Conway Twitty wrote this song for him.
Col Joye was a pioneering Aussie pop star of the rock'n'roll era (b. Colin Jacobsen, 1937) who in 1957 joined his brother Kevin's jazz band that was to become Col Joye and the Joy Boys. He had ten Top 10 hits in the Sydney charts alone from May 1959 to May 1962, including four #1s, and was a star on television pop show Bandstand. Something of a legend in Australia, his rock'n'roll suit is on display at Sydney's Powerhouse Museum.
Further reading: See, for example, the Col Joye bio at AllMusic.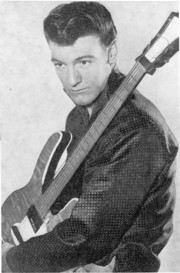 Col Joye pinup from Chucklers' Weekly, 22 Jan 1960.
Conway Twitty - Bad Man
Original unreleased demo recording?
Appears on 1969 album Darling You Know I Wouldn't Lie and on 1997 retrospective The Rock'n'Roll Years (where it is listed as a 'demo') but was apparently an unreleased earlier recording.
Thanks to Ray Arthur for help with this one through his post to rec.music.rock-pop-r+b.1950s .