Autumn - Mr Henry's Lollipop Shop (1969)

Single on Columbia by Sydney pop band often on ABC-TV pop program GTK, most popular in their home city where they had four charting singles, 1970-71. See also Song To Raymondo and Yellow River.
Further reading: Milesago's feature on Autumn.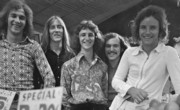 Tricycle - Mr Henry's Lollipop Shop (1969)
Track on album Tricycle by New York State bubblegum band. Seven of the album's ten tracks were written by Jeff Katz and Jerry Kasenetz with their associate, writer-producer Richard Berardi.
---
Another track from Triangle's album, Good Time Music, was covered in Australia by Clapham Junction.
---
Kasenetz & Katz's Super K Productions for the Buddah label popularised the bubblegum genre. Their charting releases included Ohio Express's Yummy Yummy Yummy (1968, #4 USA); and 1910 Fruit Gum Company's Simon Says (1967), 1, 2, 3, Red Light (1968) and Indian Giver (1969), all Top 5 USA hits. Quick Joey Small (1968, #25 USA, #19 UK) by purported house supergroup Kasenetz-Katz Singing Orchestral Circus was popular in parts of Australia (#9 Melbourne, #12 Perth).
References, further reading: 1. Tricycle (album) at RateYour Music: release details and commentary. 2. Bubblegum Pop at Wikipedia. 3. Facebook page of Kasenetz and Katz Productions.