B-side on Columbia, September 1959.
On 16 December 1957 Sydney's three prominent rock'n'roll bands appeared together at the Rock'n'Roll Ball at the Sydney Town Hall. It was the only time Johnny O'Keefe's Deejays, Col Joye's Joy Boys, and Alan Dale's Houserockers would be together on the same bill. They were pioneers of local rock'n'roll, and for a while they had the field to themselves, but only O'Keefe and Joye would go on to be major stars.
Alan Dale (Alan Ramsay, c.1935-2021) was singing with dance bands in Sydney as long ago as 1951. He later recalled labouring through Jimmy Lally charts.., doing a poor man's Frank Sinatra.1
In 1956 he responded to the impact of rock'n'roll by forming The Houserockers (later replaced by The Casuals), with guitar, piano, sax, upright bass, and drums after the style of Bill Haley's Comets. Beginning in February 1957 at Maroubra Memorial Hall, they played at rock'n'roll dances organised by Dale at numerous venues, notably the long-running Alexandria Town Hall dance from May 1957. Appearances followed on radio and on Accent on Youth, an early TV music show on Sydney's Channel 9.
David McLean's Collected Stories notes that there was fierce competition with the only three rock'n'roll bands in 1957.2 It was a busy and exciting scene, where a band could play six nights a week. Alan Dale even ran a Sunday night dance at a hall in Newton at one stage. At some dances, things got wild, the cops were called, dates were cancelled. According to Michael Sturma, Dale hired footballers and boxers as bouncers, and Col Joye recruited leaders of teenage gangs.3
By the time the major TV pop show Six O'clock Rock came along in 1959, the band had appeared on several Sydney TV shows. Alan Dale appeared six times on Six O'clock Rock, with Johnny O'Keefe starring and (after the first few editions) compering. Dale and O'Keefe were the same age, and had become friends around 1951 when Dale was apprenticed to a printer in same building where O'Keefe was working in his fathers' furniture shop.4
Meanwhile, demand for live entertainment in hotels had been increasing since New South Wales extended opening hours in February 1955.2,5 The Houserockers were engaged by the Rockdale Grand Hotel in December 1957, marking their move into playing at hotels. This was better paid and no doubt more stable than the dance scene.
Alan Dale and his band were eventually contracted to a 5-year residency at the Pagewood Rex from 1959.2 By then the band was The Casuals, formed 1958.6 They performed at the Pagewood Tuesday to Saturday nights plus Saturday afternoon, with a repertoire of standards and Top 40 for dancers, as Dale recalled in a 2015 web post.7
In September 1959 Alan Dale And The Casuals released the first of four singles for EMI (1959-60). The first single had cover versions on both sides, Bo Diddley's Crackin' Up and Chuck Berry's Back In The U.S.A, but the following three singles carried five Australian originals:
• two by Elaine (aka Laine) Goddard on one single (see here for some of her other compositions);
• one song written by 2SM Sydney disc jockey Alan Lappan, later a radio star on Melbourne's 3UZ;
• two on one single by married couple Rose and Dan Lawrence. The sheet music for one also credits Ida Lawrence.)
Unlike his contemporaries Col Joye and Johnny O'Keefe, though, chart success eluded Alan Dale. Crackin' Up, a retrospective album released by Raven Records in 1984, includes the eight tracks from his singles, and bonus live tracks from 1962 and 1963. A 1999 album on Bunyip's Rockabilly label, The Early Masters, has the same track listing (available on CD).
A curious sidelight to Dale's career is a series of soundalike cover versions that he released under various aliases on a budget label called John Mystery. Michael Sturma writes that they were "turned out on varnished cardboard": They were sold at newsagents for 2s 6d [25c] and were usually worn out after a couple of dozen plays.3 Making cheap replicas of current hit records was a well-documented practice in the US and Britain, as I have outlined over at PopArchives: The Blog.
Personnel6
• The Houserockers 1956:
Bobby Broome (guitar), John Bolton (sax), John Charter (piano), Keith Sharrat (bass), Don Prouse (drums).
• The Houserockers late 1957:
Sonny Neville (guitar), Bob Bertles (sax), Brian Turvey (piano), Keith Sharrat (bass), Don Prouse (drums; replaced by Johnny Burns)
• The Casuals 1958:
John Cameron (guitar), Gordon Holmes (sax), Brian Turvey (piano), Ken Anderson (bass, sax), John Dodds (drums.
• The Casuals 1959:
Alan Dale (2015) also lists Jack Hadfield (bass)7
Sources:
1. Alan Dale, liner notes to LP Crackin' Up (Raven Records, 1984).
2. David McLean (ed.) Collected Stories On Australian Rock 'N Roll (c.1991).
3. Michael Sturma, Australian Rock 'n' Roll: The First Wave (c.1991).
4. Damian Johnstone, The Wild One: The life and times of Johnny O'Keefe (2001) p.8 and throughout Chapter 1.
5. "New liquor laws to operate today…", Sydney Morning Herald, 1 February 1955, p.1.
6. Ian McFarlane, Encyclopedia of Australian Rock & Pop (1999) p.158.
7. Alan Dale recalls The Casuals' residency at the Pagewood Rex, The Rex Hotels, a page at the Time Gents website, January 2015.
Further Reading: Clinton Walker's article The Bodgie Boogie: What Was the First Australian Rock&Roll Record? is an excellent survey of the scene before and during the emergence of rock'n'roll in Australia, including the role of jazz musicians.
Alan Dale on CD: Compilation available from Pinewood Records.
Thanks to Terry Stacey for suggestion and resources.
---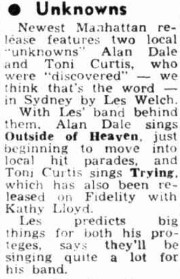 Alan Dale is a maddeningly common name to search for. There is a New Zealand actor called Alan Dale (b.1947), for example, and Alan Dale the 1950s Australian Rules footballer.
Apart from Crackin' Up by Alan Dale, there are two other Alan Dales who had songs on the Sydney charts, in 1953 and 1954.
The Alan Dale on (The Gang That Sang) Heart Of My Heart (1954, #3 Sydney, a trio with Don Cornell & Johnny Desmond) was an American crooner (Aldo Sigismondi, 1925-2002). He also moved across to rock'n'roll when he appeared in the film Don't Knock the Rock (1956), and released a single of the title track which he sang in the film.
The other record by an Alan Dale is an Australian cover (with Toni Curtis) of Outside Of Heaven, with orchestra conducted by Les Welch, Festival's Sydney A&R man and music director. It co-charted in 1953 with Eddie Fisher's American recording (#4 Sydney). Although I haven't seen it mentioned in any account of rocker Alan Dale, it is plausible that this is him, in his pre-rock'n'roll danceband crooning phase.